Last week, In between me sex trafficking Monica Foster and laughing at Tards, I received this screen cap via email:
My first thought was AHF, then, oh fuck here goes the hillbilly..While figuring my next move, I resumed talks with a Nigerien Prince who was really interested in booking Monica Foster. Right in the middle of me sending him my banking information I got this text: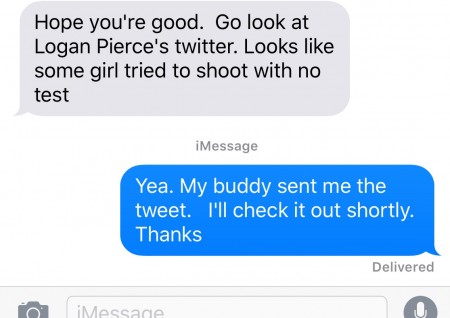 Putting the 27 dollar profit on hold I took to twitter to investigate the "expired test" and devised a plan to once again save the world from AHF and protect would be fantasy football owners from ever taking a chance on CJ Anderson again..
Low and behold, these horrific claims of expired tests were not accurate. Could it be that Logan Pierce wasn't completely honest? Why yes, it could be..
The real story goes a little something like this. Logan was booked to shoot outside of porn valley,in fact, a long way outside porn valley. Logan showed up on set for a company that honors 30 day testing protocol, not unlike at least 11 other companies and countless numbers of talent engaged in content trade. When Logan demanded a 14 test the talent didn't have it, she had a 30 day test as required by the production company. She WAS CLEARED to work.
This was unacceptable for Logan and he refused to work, had this been in the valley, it would of been easier to fix, as other talent could easily of been found..It wasn't, and with local wood few and far between, the shoot gets canceled for the day.
OC Modeling dropped the ball. They sent male talent to shoot a scene without informing production he required all partners to have a 14 day test. OC claims the company is a 14 day only production, I know this to be false as they shot 2 scenes on 30 day tests after Logan scene was cancelled and he was replaced..
OC trying to cover their ass with this obvious lie. There is NO 14 day testing "rule." Its self regulation with no repercussions if production chooses not to follow it.  While I won't reveal which companies shoot using 30 day testing, OC knows it happens all the time and OC has booked talent on these sets.. Sandra, or whomever is behind the account is correct, Logan did nothing wrong, he stood by his beliefs knowing it would cost him money and I applaud that..
What Logan did do wrong was publicly imply that not only was there a girl running around trying to shoot without a test, but some how one of the biggest talent companies out there was punishing him for not wanting to shot with unTESTED talent. Logan, acting selfishly, put this out there looking to garner public support, he mislead his followers into thinking there was NO test when in reality she was tested and cleared to work. Im sure when Logan was implying otherwise, he wasn't thinking about all the things going on in porn right now, the Deen stuff, the condom push, and the over all bad publicity both have brought. And im sure when OC claimed NO ONE shoots on 30 day tests they were actually mistaking and will soon delete those tweets..
Fuck you CJ Anderson, and your shity year