At the risk of upsetting some of you. i find this ad kinda of funny..
A Polish vodka company is facing outrage after sending an ad that seems to have made light of rape to nearly 1 million people through various social media sites.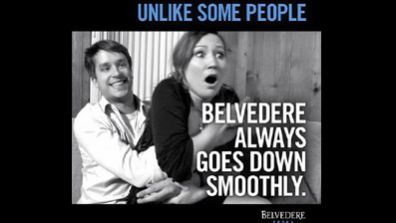 Belvedere Vodka tweeted and posted on Friday via Facebook the ad showing a smiling man grabbing a frightened woman from behind. Although the company removed the ad an hour later, it went viral and circulated heavily around the Internet.
The ill-advised attempt at frat-boy humor features a tagline under the black-and-white photo that reads, "Unlike some people… Belvedere always goes down smoothly," according to Forbes magazine.
Belvedere tweeted out an apology after taking down the ad.
"We apologize to any of our fans who were offended by our recent tweet. We continue to be an advocate of safe and responsible drinking," read the tweet.
That wasn't enough for some readers.
"FAIL. Never touching your product ever again," tweeted one follower in response.
In a further attempt at damage control, Belvedere issued a longer apology on its website.
"Belvedere has issued a deep apology for an offensive post the company put on its Facebook and Twitter pages on Friday, March 23, which were quickly pulled down that same day," the statement reads. Belvedere president Charles Gibb said the ad was "completely inappropriate and contrary to the values of the company."
"I would like to personally apologize for the offensive post that recently appeared on our Facebook page," Gibb said. "It should never have happened, and the company will take whatever steps are necessary to make sure that it never happens again. We deeply regret this lapse."
The company also made a charitable donation to RAINN, a non-profit that is an advocate for victims of sexual violence.
Read more: http://www.foxnews.com/us/2012/03/26/offensive-vodka-ad-causes-uproar-after-going-viral/#ixzz1qFgu85Q6