A university student photographed while appearing to be engaging in a public sex act near Ohio University's Athens campus tells police she was being raped as fellow students watched and uploaded pictures.
As many as 10 people watched and tweeted pictures and even a video of the act while describing both their shock and humor of the scene unfolding, according to students who broadcast the scene on Twitter.
The couple, described as being in their early 20s, is seen in several shots leaning against a Chase Bank window on Court Street – just a block from the Athens police station – as the man has oral sex with her.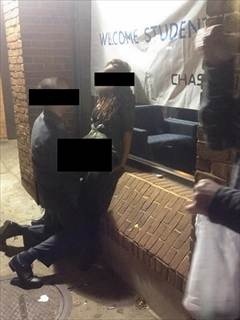 But since the photos' upload, all of which appear to be deleted online, many have questioned whether the woman pictured wasn't actively engaging in the act herself.
A college news website since claiming access to the event's 1:27 video Wednesday reports that the sex does appear consensual and the woman appeared to be enjoying herself.
"Generally speaking, the two appeared to be willing participants who were, frankly, enjoying themselves," Total Frat Move reports after claiming to have accessed the footage through a "friend of a friend."
source