Most of you have no idea who Bobbi Dylan is. Bobbi is the fringe performer who once sold other performers information for cash, once claimed to have connections to New Jersey Governor Chris Christi, and has gone out of her way to say that I, TRPWL, hid from her at AVN.
It was only a matter of time before Bobbi was once again, subject of a TRPWL post…
So the other day I'm watching Lethal Weapon 1, The main antagonist in the first one is a guy called Mr. Joshua, played perfectly by the great Gary Busey. Sometimes when a movie or even a TV show is on, I wonder what happened to so and so. So, I google up Busey on my awesome iPhone 7 Plus, and start reading about his motorcycle accident, then read how he was hooked on drugs for awhile.
While peddling the bike I made this tweet in reference to Busey:
Well apparently Bobbi Dylan's brother is a crackhead: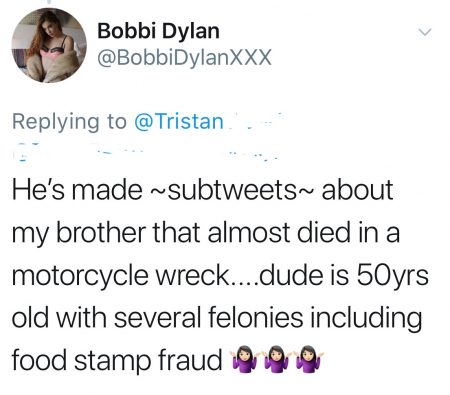 Hmmm, so many great things about this tweet, the food stamp fraud accusation, started on a racist hate site that the guy who she's tweeting to writes on, I'm not 50, and it would appear her brother crashed a bike while high on crack. I mean if he didn't, why would she think I was talking about him??
Here's another part of that convo:
So somehow It went from me hiding from her at AVN, to me walking by her and saying something under her breath?
This is really odd since I stood in front of the hotel checkout at AVN last year and talked with OC Sandra and Anthony, her agents at the time (they dropped her a few months later), for about 30 minutes. Not once did they say, "Why did you threaten Porn mope Bobby Dylan?" or "Did something happen between you and wanna be pornstar Bobbi Dylan?"
Fact is not one word was mentioned about Bobbi. Even better, if security was looking for me as she claims, all they had to do was ask the people in media how to find me, since according to her she allegedly knew my shirt and logo, it would have been real simple for them to put it together. Not only that, Thursday, I was with security for about 20 minutes when Ron Jeremy was refused access. Guess what I was wearing, anyone? Anyone?  A shirt that said TRPWL on it. Now if security was in fact looking for TRPWL, I would think my shirt that said TRPWL would have been a giveaway that I may be TRPWL.
Truth is, Kung Fu Dylan had no clue about me or what I was wearing at AVN.. She's confused me with Whiteacre more then once, it was her beef with him that she keeps referring to thinking it was me. In fact, not once while she was at AVN did she ever mention my "alleged threats" publicly.
Let Bobbi tell it she's super popular, can't date anyone cuz she's so famous, all she had to do was tweet, "TRPWL just walked by and whispered something under his breath, please find him and hold until myself and Gov Christi get there."   Her legion of fans, security, the pope, her agent, her publicist would of all been, we need to protect Bobbi Dylan, she loves cats
She's fucking Bobbi Dylan, all she had to do was shine her meth light and they would of all come running. Like that bat signal, only not in the shape of a bat.
It was dead air for the pornstar. Not one mention of it anywhere during AVN.
All these times she talked bout how I "threatened her" she never mentioned the color of my shirt until this story went up. Not once, ever, never ever did she mention my shirt prior to June…Why? Cuz the lying drug addict never was around me. I was gone by Friday
If you've ever been to AVN, unless someone is standing right next to you, no one can hear anyone say something under their breath. It's so loud and crowded and usually there is music playing.. But somehow, drug addict Dylan heard me say something under my breath, what was it? Was it a threat? Did I say there was trouble at the old mill? Did someones kid fall down a well and we needed Bobbi " I save lives" help?  Did I reference Bobbi's notoriously bad hygiene?  What did I say under my breath exactly?
So Bobbi Dylan's hatred for me is so strong, and she's so in need of a friend and ally,  she's made friends with one of the biggest racists on the interwebs, dude who constantly drops N-bombs, both on Twitter and the site he contributes to. In fact, he's been suspended from Twitter almost as many times as Bobbi's changed agencies. That's an epic number.
Here's a couple tweets from Bobbi's new BFF, he likes to refer to a retired black performer in all kinds of derogatory ways:
What the deuce? Did Bobby Dylan's new BFF just refer to an African American as a "monkey"? No way
Wasn't it New Jersey Governor Chris Christi best buddy Bobbi Dylan who once claimed that she was so incensed about racism in porn she was only gonna shoot IR..
How did that work out for you BTW?
How in the world could Bobbi "Tandy" Dylan give the time of day to ANYONE who refers to other races in derogatory ways?
Here is Bobbi "I love the black man" Dylan's BFF tweeting a link to a site that uses the N-Word on a daily basis.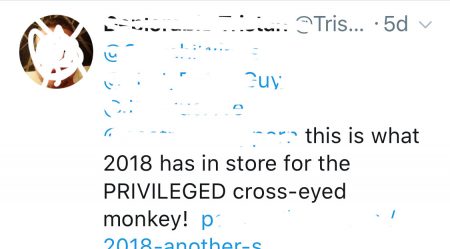 The ironic thing is, Bobbi "I can't pass a drug test" Dylan had NO issues tweeting that sites link even though it contained pictures of my 4 year old son and deceased mom, but some how she's offended by a tweet I made about crack and motorcycles. Momma used to say, if the shoe fits..
Here's to Bobbi and her new BFF sharing a white sheet and building some super sweet crosses together while using light from their Tiki torches  to show them the way…