It's been slow lately and some of my other stuff isn't quite ready for publication, so I personally felt I would share some recent Porn happenings from Twitter. We'll call it the Porn Twitter Week In Review, at least until I think of a better name.
On Sunday Lisa Ann and Nikki Benz had a slight disagreement that went on for hours and dozens of tweets. This is just a small sample.
UPDATE: The fighting continued through Monday morning. Former mayoral candidate Nikki Benz came out swinging.
Lisa Ann suddenly backpedaled and claimed she had been joking.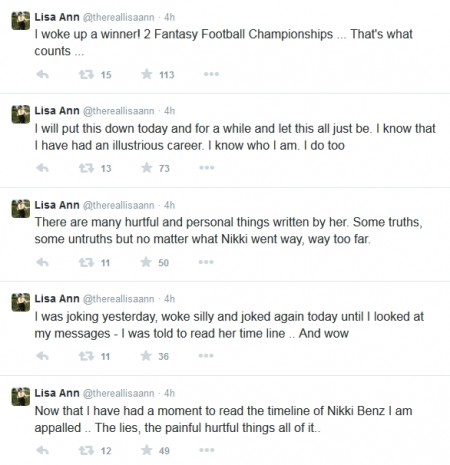 The referee declares Nikki Benz the winner. But hey, Lisa Ann won her Fantasy Football Championships.
Daisy Ducati discovered an alleged performer going by the name of Lexis Marie sharing disgusting and vile racist comments. Lily Cade, Paris Lincoln, and Ingrid Mouth immediately threw their support behind Daisy and added Lexis Marie to their No lists.
Lastly, we have some tweets from Kagney Linn Karter. These are from earlier in the month but I thought they would fit right in. Kagney appears to have taken an interest in science and mathematics, and for that I commend her. Kagney's Twitter disappeared for a day or so but reappeared on Sunday, to the joy of her 183,958 followers.
Kagney also has a new hairstyle.
Happy Holidays everyone.