"He was the best of us." ~ From James Dickey's Deliverance, 1972
With love and respect from Michael Whiteacre —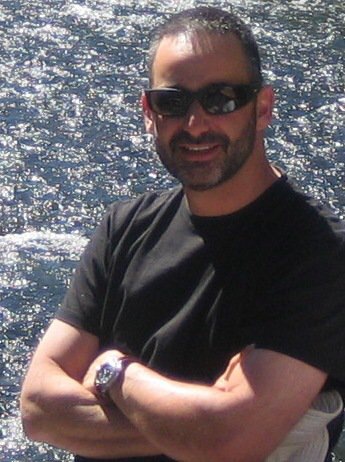 Christian Mann was a friend, mentor, and inspiration to me. He was brilliant, and he was a principled, decent man in a dirty world. I won't even attempt describing the anguish I feel today…
In 1996, I started covering the adult business after answering an ad posted by an international news syndication company looking for someone familiar and comfortable with the world of adult. They needed someone to cover the Video Software Dealers association (VSDA) show in Las Vegas, and since I was already heading out there to cover the mainstream side of the event, I got the job. By chance, one of the first people I met at VSDA was Christian Mann.
As my friend Gram Ponante writes this morning, Christian "was one of those people you meet in this business who reaffirms your need to believe that it's OK, that there are good people here, that you're not going to Hell."
I knew him back then as the owner of Video Team, a highly successful "boutique" operation that, as Jules Jordan recalls, "was like the ethnic company. It really brought the ethnic genres to a more mainstream light."
Because Christian was friendly and eloquent, whenever I needed a quote — any quote — while covering an adult event, I sought him out. Looking back, I don't think I ended up printing very much of what we talked about — Christian possessed a massive "bank" of knowledge on so many subjects, from music to philosophy to American presidential elections, and it was easy for the two of us to go off on tangents completely unrelated to the event at hand. I guess that's how our friendship began.
Back then, as Christian would tell me years later, "the [adult] business was mostly good guys, and we all got along." What Christian, and the other giants I met back in "the old days", managed to instill in me was a sense of history regarding the adult business, as well as an appreciation of legacy.
As Christian later recalled to AVN:
I officially started in the business in the summer of 1979 when I was 18 years old. My job was packing magazines in my dad's warehouse and delivering them to our local customers in the beat-up company van. Seven months into my job, on Valentine's Day 1980, I was delivering a van full of How to Enlarge Your Penis magazines to CPLC in Central L.A. As I turned the corner, I saw the entire block swarming with news media trucks … and the CPLC parking lot was filled with big guys wearing FBI windbreakers. I knew enough to not stop and instead made my way to the nearest phone booth to call my dad who had been worried because he knew raids were going down all over the country … and he couldn't reach me in the days before cell phones. This wasn't my first day on the job, but it remains one of my earliest and most vivid memories from my freshman year in our business.
One of my main takeaways from knowing Christian was that attacks on free speech and sexual freedom are a bipartisan affair. That Valentine's Day raid occurred under a Democratic president, while in 1989, when Christian was brought up on federal obscenity charges in Texas (and prevailed in his trial there), the political winds were blowing from another direction. Because the adult business had few allies, it was all the more important to bond together in community, and to endeavor to set a good example.
Although we had done some business together during the 8 years I was a content distributor to TV and hotels, he and I didn't really socialize. I would sometimes run into him — usually with Steven Hirsch — at various concerts around town. Elvis Costello at the Wiltern stands out in my mind.
Christian bought Video Team in 1994. Out of conscience, Christian and many other producers went all-condom in the wake of the 2004 Darren James HIV infections. The market did not want all-condom titles, however, and those companies either folded or dropped the condom requirement. Video Team took a hard hit, and Christian eventually sold the library to Metro in 2006.
After Video Team folded, the next time I saw him was November 2009, about a year into his position of general manager at Evil Angel. Larry Flynt, John Stagliano, and others were to be honored at an FSC-sponsored gala at the Skirball Center in L.A., and I was asked to put together Flynt's video tribute. I ended up directing the evening's presentation, which involved running down all the various cues between the speakers and presenters on stage, and the audio-video team behind the board. Christian was set to introduce Stagliano, and, being meticulous and exacting by nature, he was determined to not be "left hanging there" onstage on account of a flub. I remember us laughing and bonding all over again as we worked out his cues with great precision — and it came off perfectly.
In 2011, he surprised me by coming up to me at an expo in Los Angeles, and singing my praises in front of a group of adult industry "players".
"Here's a guy who is out there every day making the case for us," he said as he patted me on the back. I was amazed, as I had no idea Christian was even reading my stuff. He was, he assured me, and I later learned that he would share my work with many in the adult business, particularly during the campaign against Measure B during the fall of 2012.
Our friend Glenn King recalls,
On December 30, 2012, Christian canceled our golf outing because of a stomach ache. I laughed at him and said "Seriously? A tummy ache? Be a man and play golf, ya pussy". We agreed to play the next day instead. On December 31, he said his stomach ache had gotten worse and he was going to go to the emergency room. I told him he was being a baby. I said "You have heartburn because of all the terrible crap you eat. They are going to give you some Prilosec and send you home". He said "My family has a history of cancer.  That might be what it is". I laughed and said "You are a hypochondriac. You don't have cancer. You have an ulcer maybe, but most likely you ate something bad". To my credit, the doctors gave him an antacid and sent him home. They referred him to a specialist. A few days later, he found out he had pancreatic cancer, one of the worst kinds. The doctors estimated he had 5 months to live.
Christian wrote about his cancer diagnosis in a January 2013 open letter, which was published in AVN.  He also created a blog where he wrote updates about his medical condition at ChristianMann.com. Christian made it very clear that he was not simply going to curl up into a ball. The outpouring of love he received from the adult community was both immense and mutual.
During this time, Christian wed his beautiful wife Melissa. Theirs is a pure and genuine love story, the details of which I will leave to Melissa to share. She has called Christian the love of her life, and Christian left absolutely no doubt with me that he felt the same about her.
By the late summer of 2013, Christian was convinced he had beaten the cancer. Lunch or dinner at Hop Louie's in Chinatown became our thing, and those were wonderful times that I will cherish forever.
His level of wisdom and candor was breathtaking. He was an intellectual with a tremendous sense of humor, and could easily summon the perfect anecdote or analogy to illustrate his point. Christian was a great person to go to for advice because he never lectured; he was direct — often "ruthlessly honest", in John Stagliano's words — but he helped you reach your own conclusions. And then he'd offer to help.
As our mutual friend Glenn King notes, "Christian was never satisfied with being the best he could be. He wanted to help others improve their lives. He was always willing to take others' burdens upon himself. That's the kind of guy he was."
Christian had a sense of purpose. He wanted to leave the world a better place than he found it.
Christian worked hard as point man for the Free Speech Coalition's PASS testing/test verification system for adult performers —  a system he vigorously defended, as in this 2013 letter which we were proud to post on TRPWL.
He wrote, in part:
I have devoted a lot of time and effort as the FSC Board Member chairing the PASS initiative. I have received no recompense and I have no ulterior motive other than to be of service to my industry. The scores of performers and agents who have encountered me over the last thirty years would likely vouch for my integrity and genuine care for them as people and as a vital component of the business. I've never viewed the performers in an "us and them" paradigm. A simple collective "us" has always been my approach.
As John Stagliano reminded me today, "Christian was a unique, very intelligent, very morally aware executive in the porn business. He cared about the talent, he cared about all his employees." 
Christian was an extremely rational diplomat with a well-deserved reputation for being a peacemaker — "he was so good at getting people to come together," as director Kevin Moore says. Christian once described himself to me as a very political man; just as he valued human decency, he understood the importance of allies in this business. He didn't suffer fools lightly (as that 2013 letter also demonstrates), but he always had tact and grace.
If Christian liked someone, and trusted them, he helped get ahead. He was great at matching people up, and lobbying for them, ether behind the scenes or in their presence. Steve Javors credits Christian with getting him his job at AVN: "He called me on Paul [Fishbein]'s behalf to see if I was interested, and set up a meeting of the three of us." He would later make similar introductions for me, usually over lunch in the Valley.
In March of this year, when I received word of Jake Malone's passing, I rang Christian. He wanted me to do justice to his friend's story, and provided some moving reminiscences. I was struck by his insight and eloquence under stress, but what I remember most was the way his voice cracked as he spoke of his departed friend. I'll never forget the sound of it.
"Up until March of this year he thought he was going to beat this whole thing," says Stagliano, but by May, Christian's cancer had returned with a vengeance, and had gotten to his spine. Melissa never left his side, day and night. When I visited, I learned that Christian was no longer able to hold food down. The chemo had become too much for his body to take, and he and Melissa opted to suspend treatment. On July 7, he was started on comfort medications to ease his pain, but no artificial IV hydration or nutrition.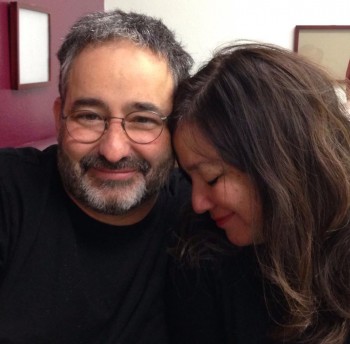 In these last few weeks, it fell to Melissa, and a few others such as Christian's old friend Luc Wylder, to keep people informed of Christian's status via social media. On July 10, Melissa reported:
The most beautiful part of this transition has been the opportunity to surround Christian, day and night, with the love of friends and family. Since he was awake this afternoon, we read him a few of the hundreds of messages about him that have been left on Facebook. We love you, they say. You've made the world a better place, and we'll miss you. So much love and support from so many friends. He lay back on the pillows with a smile on his face. "Do they know I'm not dead yet?"

The nurse offered him disposable briefs this morning. He didn't even hesitate. "Well, it depends…"
"As the second week of hospice begins," Melissa shared on July 14, "I'm reminded of the physician's remark that we are not in control of this process."
Christian was a tenacious fighter, as is reflected in the cartoon Melissa texted me on July 21: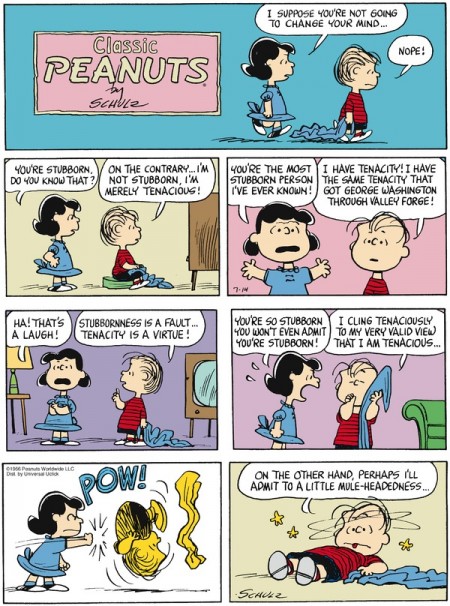 Our dear Christian could not let go until last night, July 30.
I love you brother. I'll see you again.
Read tributes to Christian from those who knew and loved him here