VAN NUYS, CA — Immoral Productions and Pure Play Media are pleased to present his new series that is dedicated to all the guys out there like him who love a nice bush on their babe, "Hair Pie"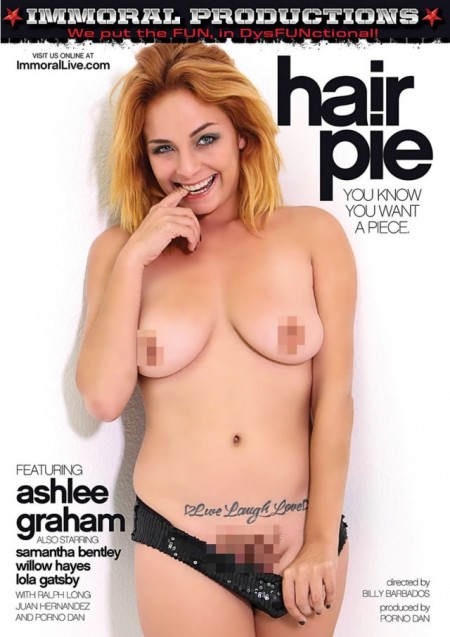 "Hair Pie" stars Ashlee Graham a big-breasted ginger; Juan Hernandez dives into her puffy pussy till she squirts all over him. Samantha Bentley is an all-natural sex machine who loves being rallied by Little Dynamite. Willow Hayes is an adorable teen with a delicious fur burger that does every position possible then gets Dan to cum on her sweet, round rump. Lola Gatsby is a British babe with a big red mane that loves the thick dong of Honky Kong.
Immoral Productions owner Porno Dan stated, "I'm dedicating this movie all the dudes like me who love to muff dive!"
Cover-model Ashley Graham declared, "Juan dined on my breaded calm like it was his last meal!"
Contact Michael at sales@pureplaymedia.com 954-903-3347, or your IVD Sales Representative for further details and ordering he stated, "I have to hand to Porno Dan on this one, I too love a fuzzy snatch"
For more information, go to PurePlayMedia.com, PPMB2B.com and follow @PurePlayMedia on Twitter.
'Porno' Dan swore to his fraternity brothers that one day he would own a porn company, and is living proof that if you stick to your perverted dreams, no matter how wild or far away, they just might come true. When the final book of porn is written, the entrance of 'Porno' Dan's "One-Man Circus" act on the scene will go down as the watershed moment when the frat house officially became the porn house! Through his fabled, outrageous behavior and antics he earned two seasons as the star of 'The Right Hand' television show, star of the "Danland" movie and has garnered a reputation as a producer of outrageous and shocking adult movies with over 100 AVN and XBIZ Award nominations
.
Please visit ImmoralProductions.com (http://www.immorallive.com) and follow @ImmoralLive (https://twitter.com/ImmoralLive) and @PornoDan (https://twitter.com/PornoDan) on Twitter and Facebook (https://www.facebook.com/dan.leal)