From racist to … kinky? As if the mystery surrounding the controversial film couldn't get any weirder, actors from Innocence of Muslims have confirmed to Gawker that the director of the film is actually a softcore-porn director named Alan Roberts. Roberts's film résumé includes titles like The Happy Hooker Goes to Hollywood.
Cast and crew in the controversial film told Gawker that Roberts might not have known about the dubbing and editing changes that turned the film into the anti-Islam spark that would light the fire under the Muslim world. "My gut tells me he was just a has-been director who was trying to prove he could still be Hollywood," an actress involved with the anti-Muslim film told Gawker.
Earlier Saturday, federal authorities interviewed and released Nakoula Basseley Nakoula, who claims to have been the film's logistics manager but not its director.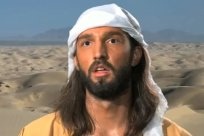 Source. Daily Beast