Our friend, British porn goddess Samantha Bentley posted this entry on her excellent site, BadBentley.com. It is republished here with her permission.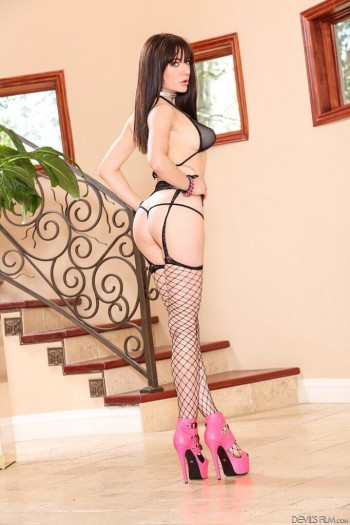 I'm not one to complain. Much. Except for all the time everyday. With that in mind, I'm aware this complaint may fall among the others and go unnoticed which is why I wanted to give it it's own post.
I'm a hardcore performer predominantly; I like shooting both sensual and hardcore scenes. It all depends on certain variables. If the location, crew and talent are awesome, I can shoot whatever whenever for however long it takes.
I'm also incredibly patient and generous when it comes to make talent. Not my words, those have come from directors and co stars. I understand the tremendous pressure that comes with maintaining a hard on and delivering a good scene in sometimes trying situations. Believe me. I have so much respect for male performers that can deliver. There are reasons why people like Rocco and Manuel and Nacho have been around so long and can demand a rate higher than most top female talent. Why they need no introduction or second name for people to know who you mean, their performance is flawless.
Everyone has off days, I sure do. It's the nature of the beast, we are putting ourselves on show mentally and physically by having sex in front of a camera. Some days I wake up and the thought of having sex makes me want to sew up all my orifices and crawl into a hole. But I can't.
However, where I will make allowances, I will always help a guy out a little if he seems to be struggling, if it's cold, if it's been a long day. I will blow him a little or let him fuck me a little before the scene.
Here's the thing. That's not my fucking job. It's a courtesy. If you can't get yourself hard, you shouldn't be doing porn. If you still can't get hard after I blow you for ten minutes and your cock is still a limp lifeless ball of squishy flesh, you better get the fuck out of there.
It takes a lot for me to put someone on my no list, in actual fact there are only 2 names that I absolutely will not work with, that if they are even on set at the same time as me I will leave. There are people I would rather not work with but I don't really care enough to make a fuss, but these two guys pushed me beyond my rage limits.
Both of them for the same reasons, I will start by saying neither of them made any effort to even say hi to me when they turned up on set, rude but whatever. Not enough to make me blacklist them, they both struggled more than any other guy I've ever worked with, despite my patience and me helping them out. Annoying, exhausting , but not enough for me to stick them on the 'never ever ever again don't even come near me' list.
A few other misdemeanors that irritated me and I began to tally up, but my final straw, the thing that reduced me almost to tears through anger. The one thing that will land you immediately on my 'no' list with no return, is this:
It's the one thing I don't do on camera, the one thing I won't ever do on camera, for me, something this personal should be saved for my boyfriend and that's just that. I will not do internal cumshots.
Everyone knows that, directors and talent and if they don't, they sure as shit are told. You don't just decide to cum inside me and then say oops I didn't want to break the scene. You fucking useless cunt, if you can't control yourself enough to not cum in me, especially after it took hours to get hard and you've only been fucking for four minutes then why the FUCK are you doing porn? Why?
I don't understand how these people get booked, both of these guys I KNOW have had issues on many sets with loads of other girls, so I know it's not just me.
Fuck. My. Life.
Visit Samantha's personal website BadBentley.com
And follow her on Twitter