British porn sensation Samantha Bentley, soon to be seen on Game of Thrones, talks dinosaurs, hipsters, bush and romantic anal
Samantha Bentley first popped up on our radar when legendary director John Stagliano described her outstanding performance in his multi-part erotic vampire epic, Voracious, during his TRPWL interview.
Voracious star Rocco Siffredi had recommend hiring Bentley for the shoot in Budapest. "He likes British girls," Stagliano told us. "They're really perverted."
Bentley did not disappoint. "I cannot take full responsibility for this scene," Stagliano said. "They thought of most of this stuff themselves, and I was just following along."
It was a star-making performance, which led to a working trip to the States. In January, we met the charismatic Brit on the AVN Awards red carpet, and a TRPWL interview was born…
In Voracious Season Two, your character is trying to kill Vlad the vampire, played by Rocco Siffredi, but things don't quite work out — you're captured and given the Rocco treatment. It's really an extraordinary scene. What it was like to work with two legends: Stagliano and Rocco?
This scene, first and foremost, is the best thing I've ever done. I poured my everything into it. I knew Rocco had specifically asked for me and John hadn't really heard of me so there was a lot riding on the scene. They are by and large the biggest names this industry has ever seen and I absolutely had to outdo myself on all levels to stay on their minds after. These two have seen thousands. I wanted to be special.
It was an unparalleled delight to work with them. The brutality of the scene and the long hours were nothing to me I just wanted to do the best scene I possibly could for them!
Well it's an extraordinary, career-making performance. What can you tell us about your upcoming role on Game of Thrones?
Aha! Nothing! But you will see soon enough!
At the moment you're over in 'The Old Country'. What are you shooting?
I just shot a 4 on 1 with me and four great guys, much in the vein of my gang bang for Kink, followed by an amazing scene with Nacho Vidal and my new favourite girl, Misha Cross. I like her, she's pale, cool and cynical. Like me.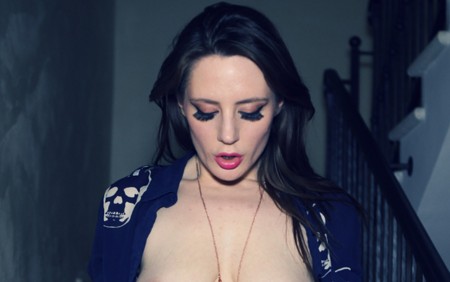 When did you shoot your first porn scene — and what led to you trying your hand at a career in adult entertainment?
I was 22 and it was a girl/girl scene in Budapest, with a stunning Czech girl that spoke no English and was a complete bitch. I decided to do porn after an ex boyfriend told me how cool it would be if I was a 'porn star'…
What was your first day on set like?
Confusing and not very pleasurable. No one spoke English and I became increasingly aware of people giving me dirty looks.
Where did your 'nom de porn' come from?
When I was 20 and I just did 'solo open leg' – yes imagine that! I shot for a horrible British tease site that posted my real name (Samantha) and the initial B…. I guess there were two Samanthas on the site, A and B.
So my second venture was my friend's site stmackenzies.com, a school girl site loosely based on St. Trinians. She told me to pick a name. I wanted to be Pixie May. She said 'absolutely not, it's far too porn'. She decided my name had to coincide with the awful tease site, so that 'fans' could easily locate me. I begrudgingly agreed and chose Samantha Bentley.
What's your favorite thing about the adult business?
Travel. Hands down. I'm so spoilt with the places I get to visit.
What's your least favorite thing about the adult business?
The drama. I just want an easy life!  (In the craziest industry in the world.) Also the travel can be both a blessing and a curse. I miss home a lot.
What do you think you are best known for in the porn world?
My submission.
Where are you from originally?
I'm south London, born and raised.
What were you like growing up? Were you an attractive child or an ugly duckling?
I was the ugliest of ducklings. I had squinty eyes and pointy little tooths. Then I was chubby with braces and greasy short black hair.
Have you ever smoked pot with Johnny Hopkins and Sloan Kettering?
I have only ever smoked pot twice in my life.
Would your high school fiends be surprised at your career in adult entertainment?
I'm not sure. I was very naughty at school, disruptive and cheeky and I was always in trouble for the wrong uniform, like Mötley Crüe badges on my school skirt and red and black dreadlocked hair…. Maybe they all expected me to do something rebellious.
Do you like to write?
I love to. When my time in front of the camera is over, I hope to write for a living perhaps.
If you had a mysterious "Cincinnati" shoebox hidden in your closet, what would be in it?
I love that movie [Hot Tub Time Machine]! I think it would contain all the backstage passes of shows I groupied my way into… Oh wait, I have one of those shoe boxes already….
What's your favorite kind of cuisine?
I just love breakfast foods.
What's the best time of day for sex?
Wake up sex rocks my world. Although I haven't had sex off camera in so long I can't really remember what that's like….
What are the ingredients in a great blow job?
Ahhh I was told this by my good friend while I was in LA. He told me I give amazing head and explained why.
1. No teeth
2. Eye contact
3. Use of hands
4. Noise. Not retarded porn noise. Noise to show I enjoy it.
5. Keeping it moist.
An excellent list, although I would add "6. Don't start crying afterward." If someone wanted to see the best Samantha Bentley scene so far, what should they watch?
The Voracious scene takes the cake for me. But I know it's incredibly sadistic and not to some people's taste so my scene with Rocco and Henessy in Perfect Slaves 2 from Evil Angel.
Let's talk about anal — is it something you enjoyed in your personal sex life prior to entering adult films?
Yes. Immensely. I cum harder from anal. Although it took my ex boyfriend years to get me to give up my ass. He got it on my 21st birthday. After spoiling me completely rotten.
Is ass to mouth an essential, natural part of any sexual encounter?
I think so. It's like when guys refuse to kiss you after you suck their dick. What the fuck is that shit? It ruins the vibe if you don't go with the flow. Just taste it and enjoy it.
Name your favorite cocktail
I don't drink….
What's your favorite type of sex scene to perform?
Anything exciting where I feel like I'm pushing boundaries. Shooting for Evil Angel and Kink is always a pleasure.
What's your favorite type of sex off camera?
Romantic anal. Sodomize me slowly.
Do you ever fantasize about kissing Ronnie Corbett on the mouth?
Ew.
If you went out and bought a guy you were dating some gourmet chocolates, and when you gave them to him he told you, "I'm sorry, I only eat carob," would that be the end of the relationship? 
Nah, I'm an asshole with food so I would understand.
Is there anything you won't do on film?
Nothing illegal. But I think I'm pretty cool with everything.
We always hear about "THE NO LIST" with the porn performers — do you have a No List? And if so, tell me what someone has to do to earn a place on it…
I do have a no list but I'm really easy going so a performer really has to earn a spot on it. There are a few names. One faked his test. One put stinky fake tan on and has no idea what he was doing. One couldn't get hard at all then had a huge tantrum when he wasn't paid.
When someone books you on a shoot do they tell you your scene partner right away or does that come later?
It depends. I like to know in advance. In Europe it changes a lot but most of the guys there are great. With girls I rarely know in advance.
Do you research your scene partner before the shoot?
Yes. Of course. I like to know what they look like, who they have worked for, how they perform etc.
If you were booked with someone who had questionable behavior would you address it with the director, or your agent? 
Yes. I'm not as timid as when I first started. I'm not afraid to say 'absolutely fuck off' now…
Have you ever cruised porn sites, twitter, or adult talent agency sites, to perv on who you might want to work with?
Oh of course, every day. I also love watching other girls' trailers to see what moves I can steal or to inspire me. Elegant Angel always have great trailers.
Is there a director or company out there you refuse to work with?
There are a few. I don't name names. I have my reasons. I'm sure there are people that refuse to work with me too.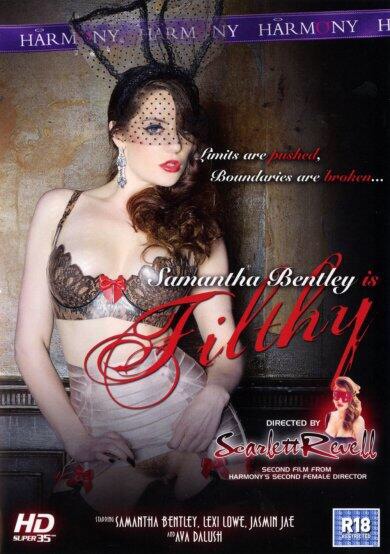 Who's your favorite director to work with so far?
Oh god I hate this question ! Ultimately Stagliano and Rocco, but Scarlett Revell who directed my feature for Harmony is incredible as are Gazzman and Tanya Hyde. Basically everyone for Harmony, and John and Rocco for Evil Angel.
Do you prefer to drive yourself to shoots, or do you use a driver?
I can't drive. So I take the train or a taxi or if I'm in Prague or Budapest I either walk or have a driver. In L.A. I have a driver. I really really need a license. It's on my to do list I swear.
What is it about sombreros that make them so damn sexy?
Ya know, I wonder that everyday.
Let's talk pubic hair…
I have a full blooming furry bush and I love it.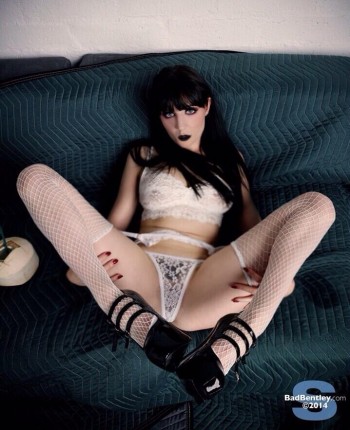 Which performer eats the best pussy?
Lexi Lowe, Dani Daniels and Aiden Ashley. Those girls can eat.
Who has the best tasting vagina?
Hmmmm Samia Duarte tasted pretty good, and a British girl called Ella Mai.
Who's your celebrity crush?
Johnny Depp forever and always.
Do you have a porn BFF?
Lexi Lowe, Misha Cross and Dani Daniels.
Do you find it difficult to date, or maintain a relationship, being a performer, and why? 
Yes for obvious reasons, people can't handle it and being a jealous person, I completely understand.
Starfish, balloon knot, colon rose, or other — what's your favorite nickname for a butthole?
Just butthole. I keep it simple .
How long in centimeters, not inches, is the biggest wiener you've encountered?
I think Danny D is the longest and that's got to be 30 cms.
Do you webcam?
I don't. I'm lazy and I have no people skills.
What do you enjoying doing in your private life — hobbies, etc? 
Gym. Dog walking. Reading. Making music. Shopping . Boring stuff.
Do you have a 'before bedtime" ritual?
Brush my teeth wash my face …. Sleep.
Are you currently harboring any fugitives?
Not to my knowledge.
Interesting answer… Do you have any non-adult related ventures?
Music, mainly. And I write for the Huffington Post UK.
If I stole your iPod what would I hear?
So much shit. I don't even know half of what's on there. But I can guarantee the entire Manic Street Preachers and Deftones back catalogues.
Does watching the TV show Cops make you sweaty? (Yes, another Step Brothers reference)
I've never seen Cops, I've also only seen Step Brothers once, years ago and all I remember is that the dad wanted to be a T. Rex and I connected because I also used to wish I was a dinosaur.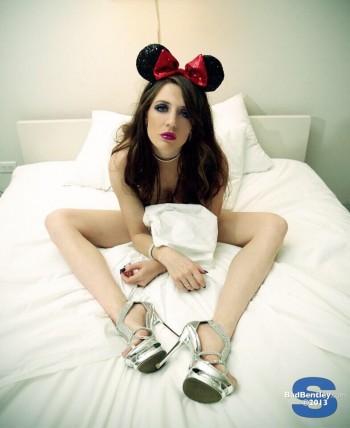 Don't lose your dinosaur, Samantha. How do you stay fit? Do you have a particular health / work-out regimen?
I run a lot, I try to eat clean, I drink a lot of water and I have a personal trainer who I see whenever I have time.
Have you ever lost a loved one to a machete fight?  Would you ever consider being part of a machete fighting PSA? 
I have yet to experience machete fighting in my life. I think I will give it a rest.
How often do you have sex in your private life?
I honestly can't remember the last time it happened.
Real boobs or fake – which is better?
Real and small.
What are your thoughts about AHF's motivation for its crusade against the adult business, and do you think the government should be able to mandate what you can and cannot do with your body?
I think it's ridiculous and the government should absolutely not have a say in what I do with my body. I'm not breaking any laws.
If the law considered it sufficient, would you shoot with an untested male performer who wore a condom?
No. My health is of utmost importance to me. I want to leave porn with a clean bill of health, thank you very much. I play with fire enough by simply shooting the scenes I do with tested performers. Condom or not, I would never put myself or others in the industry at risk like that.
What do you do when you see a hipster?
I cringe and feel embarrassed for them. After all, being a hipster is basically jerking off in public.
How upset were you when you found out Scott Tenorman didn't die?
Oh my god I LOVE that episode, isn't that the one with Radiohead?
Name someone who needs a bitchslap.
Hahaha there are too many of those needed in this industry.
If someone came to you and wanted advice on entering adult work what would you say? 
Think long and hard and if you're still ok knowing that everyone you love will at some point find out, and you've considered the health risks, the long term 'after porn' career moves and come to terms with the fact that it's a fucking job and it's hard work. Then go for it!
Where will Samantha Bentley be in five years?
Hopefully in a nice house with a husband and a baby!
Okay, pimp your links…
Instagram: badbentley666