Source: TMZ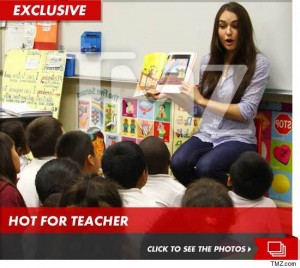 Porn legend Sasha Grey – winner of the 2010 AVN award for best anal sex scene – was invited to read books to 1st graders at an L.A.-area elementary school last week…but the school tried to cover it all up…after parents pitched a fit.
TMZ has obtained photos of Sasha reading children's books at Emerson Elementary School in Compton on November 2nd…participating in the Read Across America program. Grey, who hasn't done porn in 2 years, may have been invited because she's mainstream now, with credits which include "Entourage."
Sasha tweeted about the experience – calling the students the sweetest ever. However, not everyone saw it that way…some angry parents complained to the PTA – who then contacted the school's principal…but there's one problem.
A rep for the school district is flatly denying Sasha was ever inside one of its classrooms – telling TMZ, "We have several celebrities who read to our students each year. The actress you have indicated [Sasha] was not present."
[simple_slideshow size="large" show_counter="1″]