In a post last week I laid out APAG and felon Phylisha Ann' money scam. Using screen caps from the unions first website as well as Phylisha Ann's own posts, it was pretty obvious what her end game was..The post basically laid out how the union, wants to get paid off the backs of performers.
After the post, a post titled " Porn Union: It's Always Been About The Money & The Truth About FSC" newly installed President Alana Evans started tweeting me.. Saying the union wasn't a money scam and they need money for things like:
So the union needs a 125 bucks a year from performers to cover hosting and legal zoom?  LOL  really?  The APAG site if lucky might see 100 clicks a day, hosting for a site like that even thru Go Daddy is around 7 dollars. The domain or URL, 10 bucks a year, and legal zoom??  Why would the union need legal zoom?  More on that in another post.
Now, I just wrote a story on the union wanting to get paid, that story was the basis for the APAG President being mean and hurting my feelings on twitter. After telling me that I just had it in for them for NO reason at all, this tweet goes out: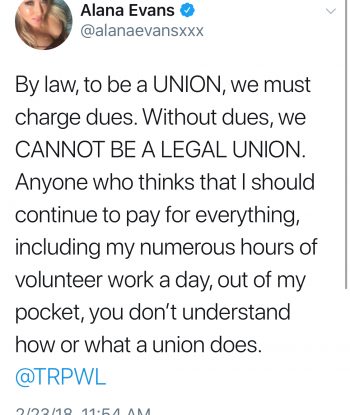 Now, I'm not Mike South, I don't live with my mom, but to me, it would appear that the APAG President wants to be compensated for her "volunteer' work.  The definition of volunteer withstanding, no one forced you to be an APAG officer.  You were appointed via a fake election, you could of done like the others who "won" and decline the position.
But you accepted, knowing at the time there was NO money on the table, but you took it anyway. Why would you do that? Did someone tell you that at some point you would be payed for your service as APAG officer?   And, if someone did tell you that, then every time I say the fake union is about people getting a pay check im right.
So if you need to collect dues to be a "legal" union, how come in APAG's first set of fillings it shows $0 dues collected?  Does that mean APAG wasn't legal it's first year?  And according to this post, APAG hasn't started collecting at all. Which would mean, according to your tweet, that APAG or IEAU hasn't been legit since day one.
As this point, the twitter convo lead to me asking about elections. I was told they all had 3 year terms: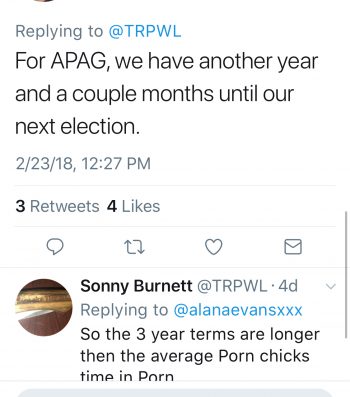 In an industry were the average performer lasts about 8 months, APAG wants them to give APAG money to pay salaries to a group of people they most likely will never meet, or elect…
The reason for the 3 years, according to the APAG President:
So I guess running APAG is harder then being in the US House Of Representatives, who only serve 2 year terms..Seems legit
I'm sure some will think I'm attacking Alana, I'm not, I'm attacking the way she got to where she is, sort of like the Trump hacking, he allegedly became President in a nefarious way, only with Alana, it wasn't Putin, it was Felon Phyllisha Ann.
I really have no idea what Alana's intentions are, why she's doing what she's doing. From what I can gather, she wants to do the right thing, at least publicly, the issue lies with the head of the union and how all the officers got there spots..
And NO need to thank me for the post APAG, by the time im done you'll have more members then the Teamsters.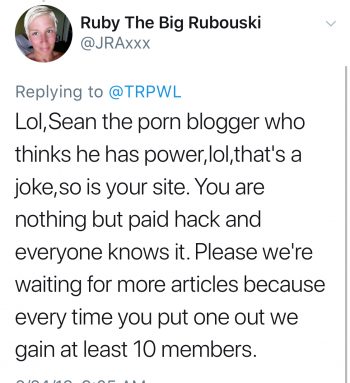 Make your union free for the next year and a half or however long your term is and I'll pay the hosting and renewal starting with this month…..