We here at TRPWL personally feel it would be a disservice to the community if we did not do more interviews fairly regularly and introduce more new adult performers of whom our readers may not be aware.
The first interview subject in the TRPWL Spotlight is East Coast-based Dollie Darko. Dollie performed in a handful of scenes starting in early 2014, and her career is just getting underway.
Why did you decide to do porn?
Initially I just really wanted to fuck James Deen. I didn't plan on getting into porn. A mutual friend told me he knew James and could possibly help make my perv dreams come true if I was willing to shoot a scene with him. I signed up online to "do a scene with James Deen", half serious, never expecting to hear back. So I kind of forgot about the whole thing. Then I get an email from his PR saying they're interested in shooting me. Shot my scene a few weeks later, decided I wanted to do this "for real" and get seriously into it because it was awesome and I'm a pervert so why not make money doing what I love?
You previously did some modeling for Suicide Girls under the name Fabrizia. Why the change in name for porn? I'm assuming SG owns the Fabrizia name or discourages girls from using the same name for porn? 
I chose a different name for porn for a few reasons. I wanted to pick a name that was a reflection of who I am, that I could brand myself with. I didn't want to use the Suicide Girls name or brand for porn because it's a completely different side of me– and it's not my brand–it's theirs. As far as Suicide Girls owning the name, they are very cool about letting us use the name and image for self promotion. They just ask I keep my porn persona separate in the interest of business which is fair. It's funny how it's affected my social media though. I've got 28k followers on Instagram under my Suicide Girls name and had to add my porn name to my profile to direct traffic. First world problems. Life is hard.
How long have you been dancing/working for SG?
I've been a Suicide Girl since 2010. I danced on and off many years ago, quit, tried to become a norm, realized I am not a norm and won't ever be, started porn and dancing again roughly the same time.
What is your "do" list?
BG, GG, group, anal, DP, blow bang, gang bang, fetish…
What do you want to do in porn?

A lot of what I listed! I want to do my first DP on film. I'm also looking to coordinate a huge crazy gangbang. I want to make a really insane scene.
Who in porn is on your "To Do" list?
I'd like to work with Manuel Ferrara, Rocco Siffredi, and Ryan Driller. Honestly I don't really have a "list" of people I want to work with! I wish Christy Mack would come back so I could work with her.
Besides two shoots for Devils Films (Devils Pin Up Dollz and The Destruction Of Bonnie Rotten) and three with James Deen have you shot anything else?
I actually shot with James Deen four times. Two were hotel sex scenes. One was an oral scene and one was a really wild ass fucking scene, which is the best one. I also recently shot for Assylum.com. It's a rough anal sex, bondage and fetish site that is by far one of the craziest out there. Peep it! (As of press time the scene has not been released yet)
You live in The City That Never Sleeps.  Are you scheduled to come out West again anytime soon?
I will be in Los Angeles in the beginning of October and hope to shoot a lot while I'm there. Producers and directors can contact me to book me direct at lateralus669@icloud.com [Since this interview was published Dollie has signed with 101 Modeling]
A top secret source told me you recently got implants. Why did you decide to get implants?
They used to be a lot bigger but as I started putting on more muscle and shedding fat, they shrunk significantly. I love big boobs so I wanted my own to play with! Last time I measured I'm somewhere around a G cup. I have no idea what size I am yet. Still healing but they look great! I've got a tiny back so the cup size goes up as band size goes down. Boob science.
Did you laugh when Marissa Cooper died on The O.C.?
I have no idea what you're talking about with the OC joke! Sorry!
How do you personally feel about boxed wine?
Oh dear lord.. I get the reference and no, please no boxed wine! I don't even drink but…gross.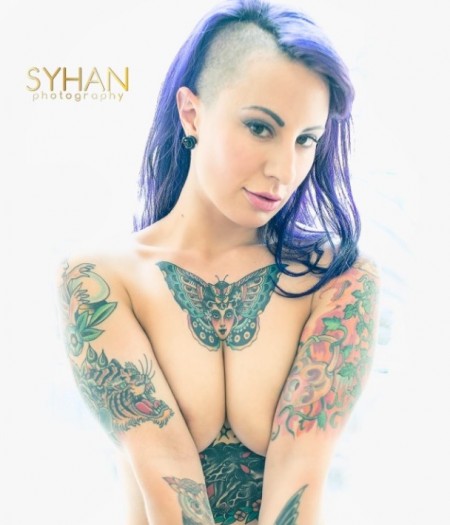 I'd like to thank Dollie for her time. I'd also like to trademark the term boob science.
Follow Dollie on Twitter @DolliexxxDarko where you can also find more sneak peaks of her new boobs
Dollie on Suicide Girls (as Fabrizia)
Dollie is represented by 101 Modeling