TRPWL does what it can to help in this slowing economy. Check out this great new gig posted recently on Craigslist: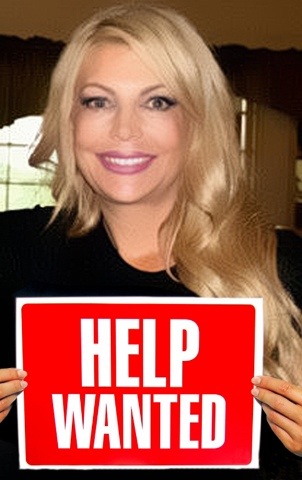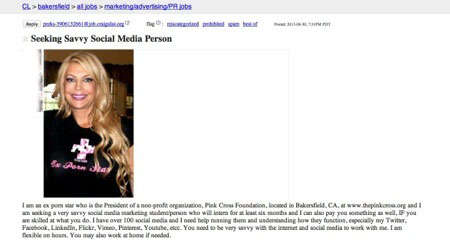 It's a pretty good ad but she left a few things out:
Applicants must also have a valid driver's license as you will be Shelley's official designated driver.
Applicants should have a experience in vandalism as well. You never know when God will tell you to deface public property.
Applicants must not like porn but be able to research it for hours everyday. The Pink Cross Foundation has a strict no boner policy. Shelley Lubben is the only one allowed to have a boner.
Applicants must be willing to accept payment under the table
Applicants must be able to fail a drug test. The Pink Cross believes in dependency. Shelley is counting on the new hire to bring the good stuff.
Applicants must have some sort of weapons training as Mrs. Lubben likes to get drunk and swing a 8ft wooden staff around while she screams at the mayor.
Applicants must be willing to donate part of their under the table pay to Shelley's buy a dick fund.
Applicants that are pre law move to the front as Mrs. Lubben will most likely get indicted.
Applicants must give Shelley Lubben a key to their house or Apt.
Applicants must be able to take intense scrutiny from the FBI, DEA, IRS and TRPWL.
Upon learning the truth about The Pink Cross and Shelley Lubben, applicants are forbidden to go public or talk to Michael Whiteacre.
Shelley Lubben will use the key you gave her to make entry into your residence and force you to join her in a board meeting/ prayer circle