Bay Area Columnist & Sex Worker Recognized for Pushing the Envelope of the Cam Girl Genre!
CYBERSPACE (January 6, 2016) — Siouxsie Q urges her fans enter a vote for her in the AVN Fan Voted Awards' Favorite Cam Girl category. The acclaimed sex columnist and Bay Area-based sex worker is recognized for her unique combination of sex work and journalism, which includes SFW video hangouts with her patrons on Patreon, and the occasional private shows without the use of a third party platform.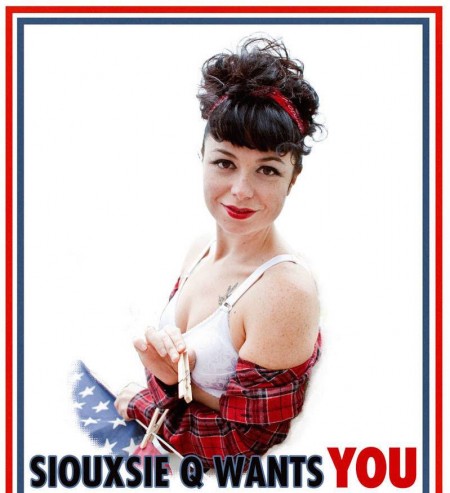 "The sex workers rights movement is gaining momentum in this country, and people are really starting to question and challenge the stigma associated with the industry," says Siouxsie Q. "My webcam allows me to connect with allies from all over the world. It inspires me to keep fighting the good fight, just knowing there are people out there that share my passion for the cause. The webcam is an incredible tool for both sex and social justice!"
Fans of the gorgeous brunette can place their vote at http://avnawards.avn.com/voting/category/22. Voting ends Friday, January 22 at 11:59pm PST.
Siouxsie Q will also be at the upcoming Adult Entertainment Expo, signing autographs and meeting with fans at the Kink.com booth; she will be promoting her upcoming book, Truth, Justice, and the American Whore, which is slated for a March 2016 release. Fans may inquire at the Kink.com booth in regards to her signing times. For more information about AEE, including tickets and VIP passes, visit. http://AdultEntertainmentExpo.com.
For over three decades, the AVN Awards show, dubbed "the Oscars of adult" by Entertainment Weekly, has been the adult industry's biggest night, and the award itself, the industry's highest honor. With a stylish red carpet pre-show and lavish star-studded ceremony, AVN celebrates outstanding achievements in "the business of pleasure." Held at The Joint in Hard Rock Hotel & Casino in Las Vegas on Saturday, January 23, 2016, the AVN Awards celebrates the best of the best in the adult entertainment. For more information, visit www.AVNAwards.com.
From Savage Love to CNN, Siouxsie Q has garnered a lot of attention since she launched her acclaimed podcast, "The WhoreCast," in the fall of 2012. Siouxsie Q's prolific writing can be seen in her regular column for SF Weekly, "The Whore Next Door," as well as in her feature pieces for Ratter, Eros Media, and Wired. Siouxsie Q's mission is to humanize people in the sex industry by giving opportunities for sex workers to share their stories, voices, and art. A quintessentially San Francisco artist – sexy, dirty, DIY – Siouxsie Q treads the "smexy" line between highbrow art and social consciousness, threading it all with lowbrow undertones.
For more information, visit http://WhoreCast.com or follow her on Twitter at https://twitter.com/WhoreCast and https://twitter.com/SiouxsieQJames.
About Siouxsie Q:
Siouxsie Q James is the creator and host of the acclaimed podcast "The WhoreCast," which showcases the stories art and voices of American sex workers. As an active sex worker herself, Siouxsie Q is committed to fighting for sex worker rights and ending exploitation within the industry. Her column, "The Whore Next Door" runs every week in the San Francisco Weekly, and she also writes for Eros Media, and Ratter.com. When not feverishly writing or rushing to record her next interview for CNN, Wired Magazine, or USA Today, Siouxsie Q stars in feminist, fetish, and mainstream porn, which garnered her an 2015 AVN nomination for Best All Girl Group Sex Scene, and a 2015 Feminist Porn Award Nomination for her original porno pop music video, "Homance." Siouxsie Q also produced and starred in the sex worker mermaid musical "Fish Girl," which has since played to sold-out audiences in both San Francisco, New York, and Portland, and garnered a "Best of the Fringe" award at the 2013 San Francisco Fringe Festival, as well as resounding positive reviews by critics across the country.
Fighting for Truth, Justice, and the American Whore is what Siouxsie was born to do, but she'll happily talk baseball, BDSM, and Broadway musicals with you if prompted. For more information, visit http://WhoreCast.com or follow her on Twitter at https://twitter.com/WhoreCast and https://twitter.com/SiouxsieQJames.