Adult star Siri will be tonight's guest on Sex With Emily, immediately followed by an appearance on Loveline, with Dr. Drew Pinsky and Mike Catherwood. The naturally-busty Nordic goddess encourages her fans, known as her "Legion of Sirians," to call in to Sex With Emily, or tweet either show with their questions.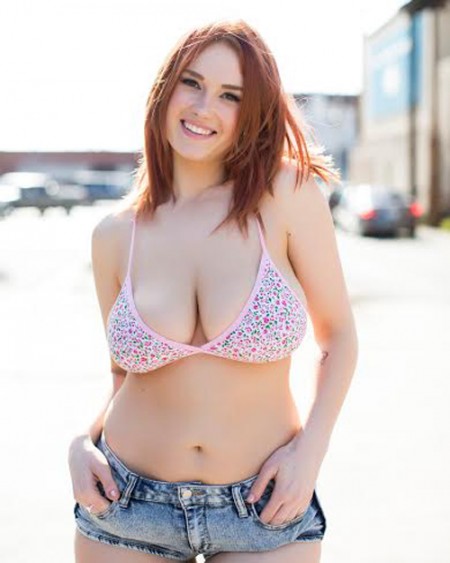 "I'm truly honored to be invited to spend an hour on air with Emily and another hour with the guys at Loveline," said Siri."Both shows are fantastic and these appearances are a great opportunity for fans who aren't familiar with the variety of things I'm involved in, to learn more about me. And for those who don't ordinarily get a chance to talk to me, calling in to Emily's show will be fun."
Sex With Emily records from 8:30-9:30 pm PDT and callers can dial 800-568-3191 to talk live with Siri and Dr. Emily Morse, or tweet the host @SexWithEmily on Twitter. The show is available for listening on SexWithEmily.com.
Loveline airs live from 10pm-12am PDT and Siri will be in the studio with Mike and Dr. Drew from 10-11pm. Listeners can find a station at LovelineShow.com and tweet the show @Loveline.
Recently honored by PopPorn.com (formerly TLA RAW), Siri was voted the 2014 Female Performer of the Year and also crowned champion of their Battle of the Superstars, in a tournament style, bracketed competition. Siri was named a 2013 Top Writer for informational media site Quora.com, where she answers questions from the public and offers advice on sex, love, and the adult entertainment industry. Quora's other Top Writers include mainstreams luminaries including the CEO of Reddit, Ivy League professors, and more.
Fans can also find Siri on her official website, SIRIpornstar.com, read her blog at blog.SIRIpornstar.com, and follow her on Twitter, Facebook, and Instagram.
About Siri:
Born in Minnesota and raised in Texas, Siri's name is a shortened version of the common Scandinavian name Sigrid, which means "Beautiful Victory" in Old Norse. Naturally big-breasted, Siri decided she wanted to be in adult films while in college at age 19 – four years before she finished school. After making the move to Los Angeles and performing in her first porn scene in February 2012. Siri and her amazing natural H-cup tits and curvy ass come from a mix of mostly Swedish heritage, with sprinklings of Danish and Norwegian. Her most recent accolades include winning Female Performer of the Year for the 2014 TLA RAW Awards, The TLA RAW Battle of the Superstars Champion, 2013 AVN Awards nomination for Best New Starlet, winning 3rd Place Overall in Miss FreeOnes 2013, and voted 2012 Miss FreeOnes Best Newcomer.
Siri is a spokesmodel for BettingSports.com and SnapGirlz.com, and she was the only adult industry professional named a Top Writer of 2013 by Quora.com. With her dynamic sexuality, Siri hypnotizes and delights her loyal fans, whom she lovingly calls her "Legion of Sirians"… and is constantly recruiting new ones!
Siri is an independent adult model and performer; she can be booked through http://BookSiri.com.