Chinese gentlemen using their iPhones to find a late night hook up, have just found out Siri's not that type of girl. At least not anymore.
That's according to China Daily, which reports Apple's voice-activated personal assistant was being a bit more helpful than officials were comfortable with.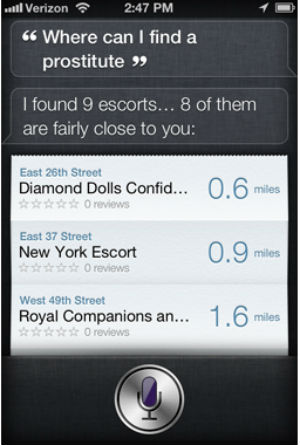 "Siri responded to "inquiries such as 'Where can I find hookers?' or 'Where can I find escorts?' by listing the nearest locations, mostly bars and clubs," according to the site.
Helpful, as long as you don't have to use Apple Maps to find them.
Prostitution happens to be illegal in China. And Apple has since pulled the plug on those listings, according to an Apple customer service staffer China Daily reached by phone.
It's not clear if they have also shut down Siri's helpful hand in finding Chinese pornography.
In America, it's long been known that Siri is tight lipped when it comes to buying guns or getting an abortion, but oddly helpful in finding late night love.
Just to be sure, this reporter asked her where to find a prostitute. Answer: "I found 10 escorts. Eight of them are fairly close to you."