THE visit of a former Japanese porn star – who now preaches safe sex, AIDS awareness and sex education – has caused an uproar in China where talk about sex is generally taboo and sex education itself is highly controversial.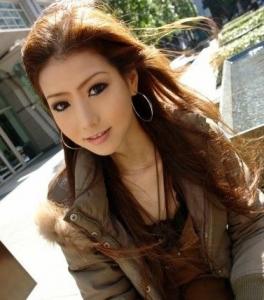 But the furor was caused more by the "offensive" 28-year-old messenger, and what was considered her audacity, than by what many people consider her common-sense and sorely needed message.
"Many people are still focusing on my former identity as porn star, but they didn't see how I've spent the past five years studying about AIDS prevention by myself and running those campaigns," Hotaru Akanei told Shanghai Daily. The Taiwan AIDS Foundation, an NGO, has named her an Anti-AIDS Ambassador.
Big-eyed, baby-doll-like Akanei was considered a queen of the Japanese adult video (AV) industry, which is legal in that country. She also has a huge following of young males in China, where such graphic films are illegal but available online, despite extensive blocking efforts.
But after she was invited to speak to students at China Central Normal University in Wuhan last month, the event was canceled for "safety concerns" because so many young men signed up – and there was so much outrage at the prospect of her visit. Some Internet users called the prospect of her appearance on campus a "tragedy of social morality" and a "stain" on the university.
"Porn queen to lecture university students about sex," read headlines in print and online.
"Prejudice" is what she calls the decision to cancel.
In 2008 Akanei had a well-documented conversion from making adult films to exposing what she calls their reality and gimmickry (don't be fooled – actors really do use condoms) and warning ill-informed young men against using adult videos as textbooks or sex manuals. Don't try these stunts at home, she urges.
She has also become an HIV-AIDS campaigner and activist for sensible, medically accurate sex education. She travels around spreading the safe-sex message, urging couples to use condoms and urging young women to refuse to have sex with their boyfriends if they won't use condoms.
Akanei has traveled around Japan and has visited Hong Kong, Macau and Taiwan. She visited Shanghai in 2010, giving out 5,000 free condoms. On her recent trip she visited Shanghai, Beijing, Xi'an and Wuhan.
In Wuhan, she had been invited by Peng Xiaohui, a sexology "professor" at Central China Normal University as part of his course, Introduction to Sexology.
If the event had gone ahead, it would have been the best-attended lecture in the university's 109-year history, said some Internet users.
Akanei then returned to Shanghai to talk to experts on sex education in China. Then, dressed demurely in a brown suit of matching skirt and jacket, she sat down with Shanghai Daily last weekend for a chat.
"Adult films are being used as textbooks since there's little valid sex education," she said.
"I wanted to tell students in China that all the legal Japanese porn movies are just movies to fulfill men's fantasies and filmmaker spend a lot of time editing and using special effects to deceive viewers," she said. "Condoms 'disappear' in editing and those strange positions are just for visual impact – they are not part of normal sexual activities. High-tech special effects create many illusions."
"These are facts – don't confuse those movies with reality," she said.
She described the moment in 2007 when she decided she would quit making sex movies. Already an AIDS activist, she had just finished delivering a speech on AIDS prevention in the grand auditorium of prestigious Waseda University in Tokyo.
An angry young woman rushed forward, got on stage and virtually spat words in her face. Akanei quoted her as saying:
"How dare you, an adult movie actress, show your face on this stage to talk about AIDS? Do you have any idea how many people have been harmed by your adult video industry?"
"I was totally shocked by the questions and I didn't know what to say," Akanei said, recalling the scene.
It never occurred to her that the embarrassing moment would become a turning point, leading to her quitting the porn business in 2008 and devoting herself to AIDS prevention and sex education activities in Japan and China.
"Talking with that girl, I started to understand her anger," Akanei said. "I realized that in a country where sex education is regarded as too shameful to be mentioned at home and school, adult movies have become young people's only textbooks."
Some young men are so addicted to these films that watching them has become an part of their life, she said.
Since X-rated film actors are never seen wearing condoms (though in fact they do), young men similarly refuse to use condoms, seek unusual and sometimes harmful sexual positions and ask their girlfriends "to accept everything they were taught by the porn movie textbooks," the ex-X-rated star said.
"And though they know they risk pregnancy and sexually transmitted disease, many young girls dare not say no to their boyfriends who require them to act like porn actresses. They're afraid their boyfriends won't love them anymore."
She uses the word "poisoning" to describe the "progressive addiction" to X-rated films, saying that she is finding the problem in China as well as Japan. "I would like to be part of the antidote," she said.
http://www.topix.com/news/sex/2012/03/skin-flicks-are-not-sex-textbooks-ex-porn-star