Spring is the season of renewal, when men's fancies turn to thoughts of lust … and a new crop of porn girls eagerly displays fresh, nubile charms. So three of the new videos on leading porn studio Evil Angel's April schedule are dedicated to hard-hitting rookie performers ready to play under big league lights: Director Jonni Darkko leads off with "Evil Amateurs" on April 1, and on April 15 his "Evil Amateur Blowjobs" makes it a double-header. "Nacho's Fucking Amateurs 4: MILFs," from director Nacho Vidal, gets into the lineup on April 20. All three titles will be available on DVD and VOD; all can be previewed right now at EvilAngelVideo.com.
Upon signing some promising prospects, Darkko set out to create "a showcase for newer girls trying to get to the next level," and he endeavored to "present them in the best light." By the time the sweaty workouts were done, Darkko found himself with "Evil Amateurs" up to bat and "Evil Amateur Blowjobs" on deck.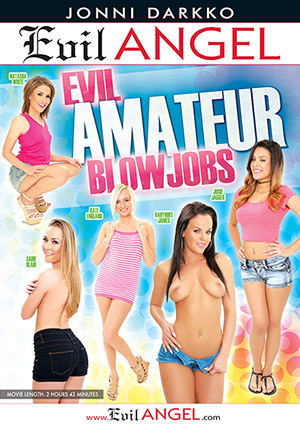 Like a major league talent scout, Vidal has been scouring foreign markets for free swingers with lots of game. His new movie is the first of the "Nacho's Fucking Amateurs" series to concentrate on novice MILFs. Vidal explains that he wanted some variety, "maybe because I watch a lot of porn." He found inspiration "looking at 'normal' girls, like your neighbor. Lately I've been masturbating [to] girls that look more real than glamorous porn girls. Sometime sex is more fun with regular girls than with big porn stars." He adds that he loves "MILFs with different shapes."
Darkko's "Evil Amateurs" lineup includes Rahyndee James, who the director says "has never really had a place to come out — she's done minuscule things; I shot a blow job scene with her recently." Now James comes into her own: "She was gung ho for a scene with two guys," and Darkko loves her "great energy. 'Vivacious' is the word I'd use. She's a dynamo. Wants to do anything and everything. She did a bomb three-way," with studs Jessy Jones and Steve Holmes. Another of Darkko's rookie-of-the-year candidates is Cassidy Klein. "She's just an animal sexual being with an amazing, natural body. She was wonderful to shoot."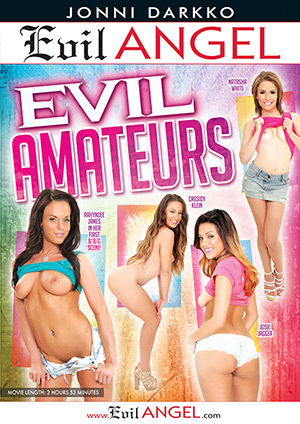 Of "Evil Amateur Blowjobs," Darkko says, "Sadie Blair is the fuckin' sleeper. I put her with this giant cock dude, Moe 'The Monster' Johnson. She was like a snake handler. A petite blonde, such a great cocksucker." He also lauds Natasha White: "Exotic and beautiful. She didn't want the scene to stop — she could've gone four hours."
Four of the five scenes in "Nacho's Fucking Amateurs 4: MILFs" feature unknown Spanish ladies in threesomes with Vidal and a second stud, young Jordi "El Nino Polla." Reveals the director, "He's my friend's brother, and he was a virgin!" Having the second stud was a dirty turn-on for Vidal: "I like to see a girl with two cocks. It's kind of nasty for me, like two cocks in her hand as she looks at the camera. It makes me feel nasty. I wish I had two cocks!" The threesomes, like Vidal's recent public sex scenes, represent variety. "Maybe you like, maybe you don't, but I'm trying to make every movie different," says Vidal. "You don't get bored and people don't get bored with you."
April is full of important dates: Look for Darkko's "Evil Amateurs" on April Fool's Day and "Evil Amateur Blowjobs" on Tax Day; Vidal's "Nacho's Fucking Amateurs 4: MILFs" arrives on 420 Day. Fans around the country can get their first look at all the rookie-of-the-year candidates balling under the lights.
Download press release materials for Evil's Month of Amateurs here.