Report by Christina Parreira —
Yet another 'trafficking survivor' has been outed as a liar, thief, and fraud. Unfortunately, I do not feel even the slightest tinge of surprise. For those of us who are constantly attempting to educate others on the differences between sex trafficking and sex work, the shrieks of these wounded anti-trafficking mouthpieces serve to shut us up.
Chong Kim made it pretty far, and I give her that; the tears, the shaking on stage, the Netflix movie! She was almost home free, wasn't she?
Until this statement appeared on the Breaking Out (non profit org) Facebook page earlier today:
On February 21, I had attended a free event at University of Nevada Las Vegas hosted by the Social Work department and Bamboo Bridges, an "anti-trafficking" non-profit in Las Vegas.
It was a screening of the film, Eden, which is based on Chong Kim's (apparently false) story of being sex-trafficked in Nevada in the 1990s.
Dr. Kathleen Bergquist, a professor who teaches the human trafficking social work class at UNLV, organized the event. 
Bergquist is also the co-founder of Bamboo Bridges. In fact she is the co-founder, board member, and grant writer of Bamboo Bridges.
After the film, Chong Kim rose from her seat and stood at the podium as a proud survivor, holding the audience captive with her tales of torture and abuse.
She also spoke of the work that she does now, assisting the Department of Justice to eradicate trafficking on Native American reservations. I listened, but felt wary. I had heard this narrative many, many times before, often used to silence consenting adult sex workers.
Naturally, a fundraiser followed.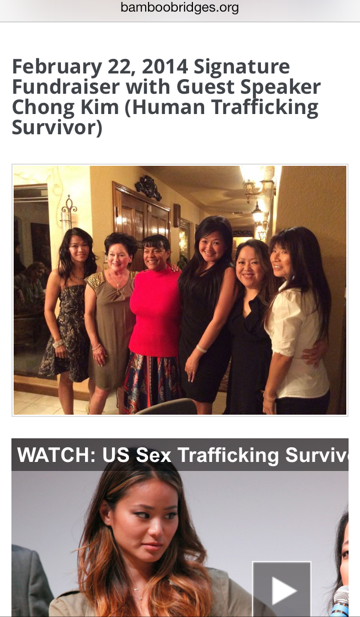 Thank you to Breaking Out for publishing the truth about yet another anti-trafficking zealot and fraud.
Chong Kim, thank you for wasting three hours of my life, for fooling thousands, maybe millions, with your fantasy tales of torture, and lastly, thank you for continuing to confuse the general public about the difference between consensual sex work and sex trafficking. The last thing we needed was another pretend victim. This is disgusting, shameful, and yet, not surprising!
Isn't it ironic how the whores are always the ones being accused of foul play, and yet, here we are shining the light on yet another charlatan?
Just last week, another fraud, Somaly Mam, was forced to resign her own foundation over revelations that she too is a serial fabricator.
Lastly, I cast a wary eye on Bamboo Bridges, the organization that hosted "An Evening with Eden," for a mere $100 entrance fee on February 22. Bamboo Bridges – Past Events
As always, I am curious to know where these donations are going, and whom they are helping. Also, will Bamboo Bridges have anything to say about these latest revelations?
UPDATE: From the Breaking Out Facebook page:
Morgan Stacy, an acolyte of Shelley Lubben — a disgraced fraud who runs a sham non-profit called Pink Cross Foundation — has jumped into the fray:
Chong Kim is receiving support from people who work with anti-porn/anti-sex work fraud Shelley Lubben — a woman who robbed and exploited a cancer patient!
Let that sink in…