After 3 years of promoting hairy vaginas it seems to be finally paying off. TRPWL has created a new bush trend that is not only taking over Spiegler Girls, but also celebs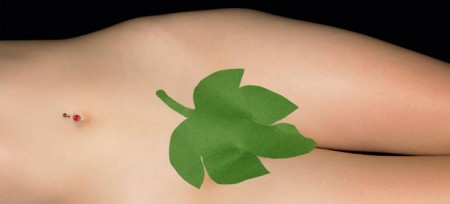 For the last decade, the Brazilian bikini wax has seemed to dominate salons and popular culture alike, leaving its adherents completely bare (or with just a suggestion of hair) in their nether regions.
But lately, and perhaps to the relief of those who have undertaken the painful procedure, it seems that a fuller look is creeping back.
Gwyneth Paltrow referred to the more natural look of the 1970s when describing her bikini area on last spring's press tour for the movie "Iron Man 3." Lady Gaga posed on the cover of the Winter 2013-14 issue of Candy magazine in full pubic bloom. And then the actress Gaby Hoffmann appeared naked, with an untrimmed thicket, in the film "Crystal Fairy and The Magical Cactus" and on the television show "Girls" (playing a similar troubled but free-spirited character in both).
In an interview, Ms. Hoffmann said she simply prefers a fuller style on herself. "If I just stay true to what I like, every decade or so I come into fashion," she said, adding that her experiments with hair removal have been limited. "I grew up with a lot of naked women with big bushes," she said. "It never occurred to me to remove it. I was going to a friend's wedding in southern France. I knew she would be tickled if I showed up with my bikini line waxed. I got it, and it was a first. I find it uncomfortable."
She is equally uncomfortable, though, with the attention she is getting for the look. "It's one of those topics that unfortunately is a conversation that won't be over until we get over our weird puritanical obsessions with sex and the female figure," Ms. Hoffmann said.
Indeed, the conversation has sometimes flared into controversy. Last October, the photographer Petra Collins became something of a cause célèbre online when Instagram deleted her account after she posted a self-portrait wearing a swimsuit bottom with an unshaven bikini line. (She has since opened a new account, thus far adhering to the guidelines.)
And this month, an American Apparel store on the Lower East Side put pubic hair on its mannequins, an action mocked online but supported by the company's head office.
"One of our merchandisers did that display to show off our semitransparent mesh lingerie for Valentine's Day, and we're longtime supporters of natural beauty, so we liked it," said Marsha Brady, creative director for American Apparel, which is based in Los Angeles. "It just seems like everybody's got it all backward. Pubic hair isn't a trend, removing it is. It's like everybody's suddenly acting like having hair is a new idea."
Dr. Lauren Streicher, a gynecologist in Chicago and author of a health book, "Love Sex Again," to be published this spring, said that "historically, full pubic hair was an indication of good health," adding, "If you don't have hair there, there is a great likelihood in irritation and razor burn."
In certain corners of Manhattan, the bald look of the Brazilian has become déclassé, more suggestive of a naked Barbie doll or a reality television starlet than an organic lifestyle of cold-pressed juice and barre classes.
"We have noticed a massive decrease in requests for Brazilians and high bikinis," said Angela Jia Kim, the owner of Savor Spa in the West Village. "Our clients in particular are eco- and health-minded, and the grown look certainly suits a girl who is more au naturel."
In a promotional video for her book "How to Be a Woman," the British feminist writer Caitlin Moran jokingly shows off a large television she bought from "the proceeds of not having Brazilians every four weeks for the last 10 years." She added: "My down-below doesn't look like a child's. It looks like a grown-up woman's."
Watch Now: Super Bowl XLVIII, by the numbers
Shannon Conley is the owner of Urban Waxx, whose three locations in the Portland, Ore., area did 23,000 Brazilians last year, she said, at $70 for first-time clients. While Ms. Conley sees no wane in demand, she has noted a modified version of the Brazilian. "Sometimes as women get older, they feel self-conscious about having no hair," she said. "So leaving hair at the top gives the illusion of having normal bikini hair, but is still groomed."
For the last six years, Alexis Steinman, 37, a costumer in Seattle, has been getting a wax of her own design, which she calls "the Alexis": a full front and bare everywhere else. "I have been ridiculed by many waxers, but having no hair, you look like a stripper or a kid," Ms. Steinman said. "Neither one of those things are what I'm aspiring as a woman to resemble."
Instead, her style is influenced by some of her favorite art, like Gustave Courbet's 1866 painting "L'Origine du Monde" or the works of Egon Schiele. Pubic hair, Ms. Steinman said, "is comforting and sweet and erotic at the same time."
As for the opinion of men, reactions to the renaissance seem mixed.
"I was horrified by its absence," the writer Rob Delaney said of pubic hair.
But the comedian Jim Norton said he would be "happier to hear that bell bottoms were making a comeback than pubic hair. It blocks the view of something I love very much."
The actress Cameron Diaz tackles the issue in her new work, "The Body Book." In one section, she discusses "the lovely curtain of pubic hair that surrounds that glorious, delicate flower of yours" and warns readers against making a permanent change, like laser hair removal.
"Grooming one's lady bits is a matter of personal choice," Ms. Diaz wrote in an email. "I simply urge women to consider not doing anything PERMANENT down there. Wax it bald, leave it wild and bushy, shave it into a heart or a landing strip or a birthday cake. Trim it, tease it, dye it like an Easter egg … just bear in mind that trends and preferences change and you should think about keeping your future options open for yourself (and your future lovers)."
Source