It's rumored that Claire Robbins was a virgin when she started porn. Not sure if it's true or not but one thing is certain: she hates cats and loves anal.
The following twisted tale of kinky sex and chicken farming is her story. I changed nothing 'cuz i dont care about protecting the innocent.
This is your second go around in porn right?

Yes indeed! The first time was such a smashing success that I couldn't stay away. It's good to be back and see some familiar faces, as well as meeting all the new hotties.
Why did you leave the first time?

I wanted to attempt real life things! Go to college. Have a boyfriend. Stuff that all of my friends were doing and I was missing out on.
What made you decide to come back?

As it turns out, real life stuff is lame. I'd so much rather get plowed by hot dudes for a living as apposed to having to climb the ranks in a shitty office job.
When you called Mark Spiegler and told him you wanted back in, what did he say?
"Do you still do anal?" Hahahaha.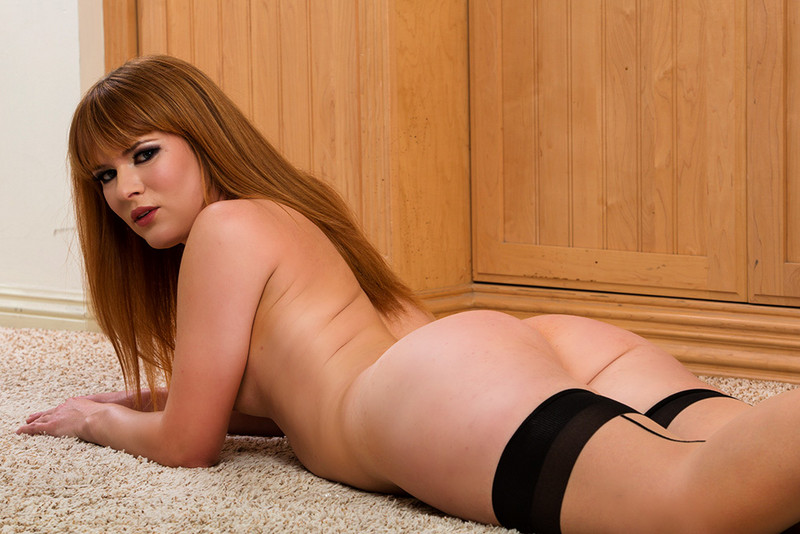 Did he tell you that all Spiegler girls have to wear a bush 4 months out of each year?
Bring it. I like to stay clean shaven for my own preferences, but if that's what it takes to be on the top….
Once your bush is in bloom I will have to check it for thickness and originality. It's in your contract, page 17, section C, paragraph 4 subsection 6..

I'll make sure it's up to regulation.
When you were away did you stay up on the who's hot and who's not in porn?
Not at all!!! I never watch porn in real life so it wasn't even on my radar. I don't really care about watching people fuck- I'm only interested in getting fucked.
Any talent you thought if you ever came back you would want to work with?
Not really- honestly I want to work with every single person I can. No dick left unfucked!
Even though you haven't been back very long, anything outside of talent that seems different from your first go-round?
All of the companies I used to work for no longer exist. I can no longer have pride in my fucking streaks with certain companies because the new girls don't know who they are.
Did you follow the Measure B stuff?
Has that started already?
What are your thoughts on mandatory condoms?
I think it's a great way to kill an industry in Los Angeles, plus it's a waste of money to enforce. I'm astounded that 57% of LA residents don't see how ridiculous it is.
Do you have a porn BFF?
Not yet!!! All of the Speigler Girls I've met so far are cool as fuck, so I'm excited to get to know everybody.
You meet a guy, you know he's the one and are supposed to meet him later for anal. You know if your late he's done with you. But you discover a plan to by LA Direct to kidnap Alaska and sell him to the Chinese. Do you foil the plan or keep the date?

KEEP THE PLAN. ANAL. COME ON.
Is your return for limited time or are you gonna hang around for awhile?
I'm gonna hang around and see the sights. I always feel like I sort of robbed myself of fun last time around by quitting so early in the game. I need to make up for lost time!
Anything that you didn't do the first time that you want to now?

No, I did everything. I still do everything. I'm a dirty, filthy whore, in all the right ways.
Will you be signing at AVN?
Nooooo! I wish. There's always next year, right? However, I will be in attendance to cheer on my colleagues.
What would you rate your starfish on a scale from 1-10?

If by starfish you mean vagina, it's a fucking 10. (wrong answer) lol
What's your favorite part of a shoot?
Getting the shit fucked out of me, of course.
I know you've been busy, tell everyone some of the companies you've shot for since you've been back.
I shot for Evil Angel and Naughty America. My first one back was with the glorious Manuel Ferrara, but honestly I'm not sure what it was for. I was so happy to see his cock I didn't ask questions.
Have you set any limits ?
Absolutely not.
Did you know Mark posts yalls pics on Spieglergirls.com by order of his favorites?

Holy shit. Why am I only in the 2nd row then? I need to get on that…
Are you prepared to defend yourself at the 3rd annual Spielger Girl battle royal? Its a over the top rope elimination match to be Marks favorite..

I've been training. I have faith that I will persevere and be triumphant.
Who's your favorite wrestler?
Nooooo fucking idea. I don't watch wrestling, but I do watch UFC.
Would you date a chicken farmer who wrestled part time?
If he had a nice dick, sure.
To keep up with Claire check out her links: