Tampa – BrattyFootGirls.com always guarantees their fans new and exciting content each and every week. And, this week is no exception with three new thrilling updates to keep fans occupied. The top three updates features the type of content that has earned BrattyFootGirls.com their spot as 'The Biggest Name In Foot Fetish Femdom. Nika Venom, Sunshine Tampa, Naomi Swann, Ginger Ale, Goddess Cleo, and Lady Orias are this week's featured performers.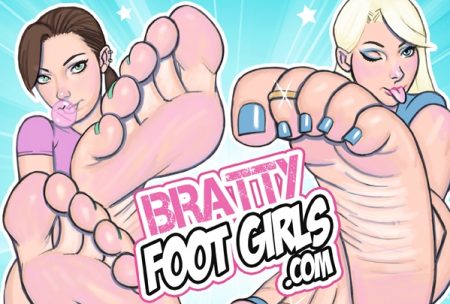 Kicking things off is Nika and Sunshine in "Our Feet Are Insanely Stinky", where Nika and Sunshine tease and please their slave with the ripest feet imaginable. In fact, Nika and Sunshine found their stinkiest shoes to wear specifically for this shoot. The girls force their slave to take a deep whiff, and smother his face with their lovely feet, making sure they get their toes to cover his nose. Nika and Sunshine take great pleasure in torturing their slave!
"Cruel Bratty Giant School Girls – VR 360 4K" is the next update, and features familiar face Naomi and new face, Ginger. Your school trip to Miami took an odd turn, as you are now shrunken to the size of a bug. Classmates Naomi and Ginger are smoking outside, and almost crush you. But, things get worse when they notice you and crack jokes about your size. They decide to have some fun, as hover their giant feet over your tiny body, threatening to crush you into a tiny stain.
Picking up where part one left off, "Teacher's Favorite Foot Pet 2", is a GG foot worship scene that's so huge, one clip just wasn't enough. Orias is failing her classes, and it's up to Miss Cleo to put some sense back into the girl. Orias is ready to do almost anything to pass, and Miss Cleo has a deal. Orias will get her 'A', but only if she agrees to worship and lick her feet. Orias is reluctant at first, but an A is an A. Stay tuned for part three, coming soon.
For even more femdom content, check out BrattyFootGirls.com's sister sites, BrattyBeatdowns.com and VersusFetish.com. Their customs site, BrattyCustoms.com, offers custom videos with their roster of ever changing brats. From foot fetish to femdom, there's no doubt as to why Bratty Foot Girls is known as the top name in Foot Fetish Femdom!
To get the latest news, follow Bratty Foot Girls on Twitter.
PR for Bratty Foot Girls is provided exclusively by XXX STAR PR. Follow us on Twitter, @XXXStarPR and check out our website, xxxstarpr.com. For interviews or media inquiries, contact xxxstarpr@gmail.com.