The Natural Cannabis Company Announces "The High Life Series" With Adult Film Performers as Ambassadors of the Exclusive Brand
Celebrity supported cannabis line will feature famous cannabis enthusiasts from varied fields in sports, Santa Rosa, CA- April 13, 2015
The Natural Cannabis Company, a leader in the burgeoning cannabis industry, unveiled plans for a new product line The High Life Series featuring a diverse list of celebrities as brand ambassadors. Each celebrity in the series will be featured prominently in both product packaging and all High Life Series marketing materials, merging the star power of celebrity with the high end cannabis exclusively selected for the line. The High Life Series will first become available on April 20th with an inaugural set of celebrities attributed to the series for a one year period.
Each month a different product strain will be included in the series, and the line will be available at all three Natural Cannabis Company Northern California locations: Organicann in Santa Rosa, Oakland Organics in Oakland, and Mendocino Organics in Hopland and through a number of delivery services. "The High Life Series is another pioneering foray for Natural Cannabis Company's reach into the mainstream. As the cannabis revolution continues at breakneck speed, The High Life Series invites both existing and new members to enjoy our exclusive artisanal cannabis endorsed by celebrities they know and love" said Dona Frank, President of The Natural Cannabis Company.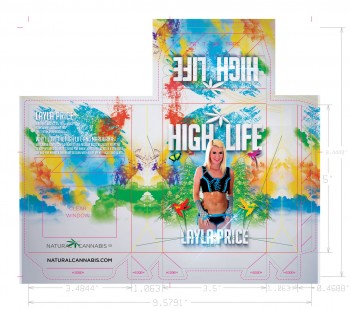 About the Celebrities:
SKIN DIAMOND:
An adult industry icon and celebrated actress, Skin Diamond started out in the adult entertainment industry as a fetish and erotic model. She began performing in explicit hardcore movies in her early 20s in 2009. Skin was nominated for an AVN Award for Best Three-Way Sex Scene in 2012. Skin chose her strains in April during a visit to Sonoma County.
LAYLA PRICE:
Layla Price is known for her natural buxom beauty and big brown eyes. She's an adult industry veteran with a loyal following. Directors love her work ethic, and fans love her hot body. She has chosen a special strain for her fans. Layla will be appearing at the Organicann 4/20 Celebration on Sunday, April 19th (9am-6pm) at 301 East Todd Road, Santa Rosa, CA 95407
LIZZ TAYLER:
Lizz Tayler launched her career in the adult film industry in 2010. In October 2010, the company Bottles-Up Inc. launched a signature cocktail named after her. Tayler has been widely praised by industry leaders for her on screen presence and beautiful smile. Lizz Tayler will be joining Layla on Sunday, April 19th for the Organicann 4/20 Celebration.
MASTER BONG:
Creative energy sprung the birth of MasterBong back in late 2008. When one day a fan tagged him as the McGyver of Pot, the name stuck and he's been using it ever since. Since then, he has been empowering millions with the information to create a pipe or bong out of anything!
Fun and laughs flowed in abundance while he created the world's first Bell Pepper Bubbler, Light Bulb Vaporizer and High Lighter Pipe. Inspired by the positive feedback he has received, Master Bong created masterbong420.com…a community built for laughing, sharing and inspiration.
NGAIO BEALUM:
Ngaio Bealum is an American comedian, musician, writer, actor, activist, juggler, and publisher. He co-hosted Cannabis Planet and published West Coast Cannabis Magazine. He writes a column in Sacramento News & Review, answering questions from readers about cannabis and its politics.
Ngaio was born in San Francisco to hippie parents, leading to jokes about how he got his name. He is well known for his many film and television appearances as well as for being a regular host of High Times and more recently for frequent guest appearances Getting Doug with High hosted by fellow comedian Doug Benson.
About The Natural Cannabis Company:
The Natural Cannabis Company's goal is to bring the highest quality cannabis to their clients. Based in Northern California and home to the world's finest artisan cultivated cannabis, The Natural Cannabis Company's opulent flowers highlight the delicate properties unique to the "Emerald Triangle" region.
The Natural Cannabis Companies luxury class varietals answer the call from discerning cannabis connoisseurs for new and superior quality products. The Natural Cannabis Company offers an extensive selection of exquisitely cultivated and small batch produced natural cannabis strains. For more information visit naturalcannabis.com
Contact Information:
Dona Frank
The Natural Cannabis Company
dona@organicann.com
+1 707-588-8811