Stuart Lawley navigates Bear's Club Drive in his midnight sapphire Rolls-Royce Phantom Coupé, a $464,000, 3-ton, 12-cylinder land yacht so well-engineered that ensconced in its butter-soft leather, one barely senses motion at all.
Lawley docks gently at a French-style château adjacent to the 15th fairway of a luxuriant tropical Florida golf course designed by "the Golden Bear," Jack Nicklaus. Celine Dion owns a place nearby, Lawley mentions. Michael Jordan is building on two lots just around the bend. Lawley's one-story, five-bedroom, 9,300 square-foot stone manse has a perfectly green lawn made of plastic. "AstroTurf," he confirms. "I rather like it." The previous owner, an auto parts heiress, has moved to a larger spread elsewhere in the development.
She was eager to sell, Lawley says. He offered $3.8 million, all cash, take it or leave it. She took it. There's a catch, however: In early June, the homeowners' association delayed the closing because some members were uneasy about Lawley's occupation. "The neighbors are worried that a 'big-time pornographer' is moving in," Lawley says. "Bollocks!"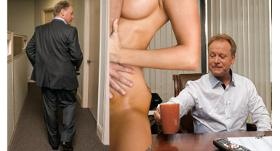 The son of a municipal bus driver, Lawley grew up in Britain's industrial West Midlands. By the time he was 37, he had made two decent-size fortunes selling fax machines and creating business-to-business websites. In 2000 he moved to the Bahamas to work on his golf swing and sidestep a $40 million tax bill. He does not consider himself a pornographer. "Until I invested in ICM Registry in 2003," he explains, "I was like any other normal bloke. I had looked, furtively, at dirty websites maybe three or four or five times."
These days, he owns ICM, a 12-person business in Palm Beach Gardens, Fla., that operates the top-level domain name ".xxx," an alternative to ".com." The domain is designed specifically to showcase pornography. On a wall of Lawley's office on PGA Boulevard, the framed item bearing his company logo is an oversize cerulean-colored condom. ICM's spokesmodel, the curvaceous Nina Mercedez, markets herself online as "THE HOTTEST LATINA in the XXX industry." So, let's be adult about it, in the words of ICM's slogan, and stipulate that Lawley is in the porn business.
Assume you want to charge customers for videos and live webcam conversation featuring male-to-female transvestites. You could come up with a catchy name and buy an address ending in .com from GoDaddy or another website retailer. If you did, VeriSign, a separate company based in Reston, Va., that operates the digital infrastructure for .com sites, would get a cut of your fee. In online argot, VeriSign is a "registry." Lawley's ICM is also a registry, and its .xxx sites are available via GoDaddy, too. As for the transvestite porn site, it's called shemales.xxx, and it's already been taken.
Since ICM went active last fall, online shingles have been hung for, among others, orgy.xxx, bollywood.xxx, and german-sex-portal.xxx. For several years, Mercedez, a former Miss Nude Universe, has run a cluster of .com sites.
Lately she has also leased space at ninamercedez.xxx. If a potential fan Googles "Mercedes," or "Mercedez," "they'll probably get cars or car parts," she notes. If they want to see Nina Mercedez having sex, and they search for her name and .xxx, "they know they're going to get porn." Mercedez has built enough of a following that she shows up fairly high in search results anyway, but the ability to quickly find the porn you're looking for is, in a nutshell, what the investment bankers would call Lawley's value proposition.
Within the virtual realm made up of "top-level domains"—.com, .net, .org, .gov, .edu, and so forth—Lawley portrays .xxx as a responsibly run red-light district. Go there if you want wall-to-wall copulation of a decidedly unsentimental strain; stay away if you do not.
The days of "Ding, dong, pizza delivery man?…" porn with a goofy plot and two principals are fading. Much of what's online now is Web-quick, more revolting than titillating, and involves a level of brutality one dearly hopes is feigned.
Not to worry, says Lawley. It's all just fantasy for consenting adults. Parents can use free browser settings or commercially available software to block all .xxx sites. What's more, he promises that on his domain, legitimate customers can indulge carnally without fear of credit-card fraud, viruses, or inadvertent encounters with illegal child porn.
As part of the purchase price of a .xxx site, Lawley includes daily scans by the Internet security firm McAfee, ensuring that the sites are protected from scammers using porn as bait to steal personal information.
Next year, ICM plans to introduce a proprietary micropayment system. This service, Lawley promises, will help blue-chip pornographers fight back against the proliferation of free and pirated smut online. "We're going to do for adult what Apple did for the music business with the iTunes store," he predicts. Consumers who have become conditioned to grainy, poorly shot giveaways, Lawley says, will get reacclimated to paying for higher-quality hard core.
Price, quantity, and specificity are key. Rather than the traditional model—$24.99 upfront for all-access monthly memberships—porn consumers will shell out 99¢ apiece for short clips of niche material (akin to buying a favorite song, not the whole album). Perhaps more compelling, people seeking porn on their mobile devices will have a convenient way to purchase a quickie on the run.
With more than 220,000 sites signed up so far, Lawley now presides, in his view, over a clean, well-lighted virtual mall. Site owners pay $60 a year for a typical .xxx domain, compared with less than $10 for a .com. ICM Registry auctioned "premium" names for much more.
The aforementioned shemales.xxx went for $200,000; fetish.xxx, for $300,000; gay.xxx, for $500,000. In the last three months of 2011, its first active quarter, the tiny company took in $25 million.
While the proportion of the Internet devoted to porn has been exaggerated by conservative activists and marketers of parental-filtering programs, there is still room for ICM to grow. The most comprehensive study of .com porn, conducted by neuroscientists Ogi Ogas and Sai Gaddam for their 2011 book, A Billion Wicked Thoughts, showed that a modest 4.2 percent of the world's million most popular websites were sex-related.
A more impressive 13 percent of Web searches seek erotic content, the authors found. Lawley's hope is that an increasing share of those searches will flow toward .xxx.
His ambition has provoked mixed reactions in the southern California precincts known as Porn Valley. Some stalwarts there accuse him of running a protection racket: bullying businesses, adult and otherwise, to shield their intellectual property by defensively purchasing .xxx names.
"That's blackmail," says Christian Mann, general manager of Evil Angel, a production house in Van Nuys responsible for such works as Don't Make Me Beg #4. ICM's business plan, he adds, "is shocking. It's scandalous."
Still, the Web affiliate that runs Evil Angel sites evilangel.com and buttman.com bought the .xxx equivalents, fearing that cybersquatters would get there first.
Manwin Licensing, a Luxembourg-based owner of hard-core digital real estate, has sued ICM in federal court in Los Angeles for "monopolistic conduct" and "price gouging," allegations ICM denies. As early as April 2006, Hustler founder Larry Flynt wrote in an open letter that the .xxx domain "is an inherently dangerous idea with no real purpose."
He warned that its creation would encourage lawmakers in Washington and other capitals to mandate .xxx as an exclusive corral for adult material. "Only if it becomes a tool of censorship," he added, "will it achieve its goal of preventing access to adult content by minors." Lawley says that he does not necessarily favor stricter government regulation; on the other hand, he admits that curbs along the lines Flynt suggested could bolster ICM's bottom line.
The resistance to Lawley, whatever its merits, has the ring of desperation. ICM arrived at a moment of crisis for commercial porn.
After enabling several boom years, the Internet has brought many smut marketers to their knees. Rampant freebies on "tube" sites have reduced global porn revenue by 50 percent since 2007, to less than $10 billion, including about $5 billion generated in the U.S.
Those are rough guesses by Diane Duke, executive director of the industry's trade group, the coyly named Free Speech Coalition. Speaking privately, some porn executives say the coalition's revenue estimates are optimistic. In a field dominated by privately held companies, no provable statistics exist.
Setting aside moral judgments and potential social harms—we'll get to those—it's remarkable that Lawley is making any money at all. Especially since he had to fight for seven years, spending millions of his own dollars, to get permission for .xxx from the Internet Corporation for Assigned Names and Numbers (ICANN), a nonprofit regulatory body.
His persistence in the face of hostile lobbying by competitors, religious conservatives, and the U.S. government suggests that if the stubborn British entrepreneur claims to have a money-spinning solution for the Great Porn Depression, he should not be underestimated.
In 2003, when Lawley began eyeing porn as a business opportunity, the industry was enjoying a giddy digital surge. The founding fathers of modern erectile entertainment—beginning with Hugh Hefner and Playboy in 1953, followed by Bob Guccione and the bawdier Penthouse, and Flynt and the proudly vulgar Hustler—nudged blue material out of backstreet bookstores and into the commercial mainstream. In the 1980s porn provided proof of concept for how to profit from home video, as VHS tapes allowed consumers to abandon peep emporiums for the living room couch.
Porn sold next-generation DVDs and in the late '90s quickly capitalized on the Internet, becoming one of the Net's first killer commercial apps. Porn then encouraged Internet service providers and cable networks to invest in increased bandwidth and higher-quality streaming video.
As happened to other traditional media businesses, however, the Internet swiftly turned on pornography. First, DVD sales slackened. The Playboy and Penthouse franchises withered. In contrast, Hustler and more enterprising producers such as Evil Angel and Vivid thrived by diversifying online, at least for a while. Pretty soon the advent of free tube sites laid siege to even the more resilient smut-for-pay businesses.
Enter Lawley, pride of the British hinterlands. "Queen Victoria named the area where I grew up the Black Country," he says, a reference to the factory soot Her Majesty saw from the window of her royal rail car. Flushed of cheek and with thinning blond hair, Lawley, 49, speaks with a broad Midlands accent, not the pinky-in-the-air cadences of a London posh. He aced his exams and went off to Imperial College London. "It's the fourth-highest-rated school in the world," he boasts, "the M.I.T. of the U.K." A local engineering firm gave young Lawley a scholarship with the understanding that he would return with a degree in mechanical engineering and go to work in the British auto industry. London's fashionable Knightsbridge opened his eyes to other possibilities. "I'm seeing people in Rolls-Royces and Ferraris," he recalls, "and I said to myself, 'Blimey, they're not managers of some copper smelting plant outside of Birmingham.'?"
As a university student, he began selling burglar alarms door-to-door. An indefatigable extrovert, he sometimes took home £1,000 a week. The entry-level engineering job would pay £7,500 a year. Then, in 1985 he happened to see a demonstration of a Sharp facsimile machine. "?'Bloody hell,' I thought, 'that's fantastic. Every business in the U.K. will want one of those.'?" With his own savings and a £2,000 loan from his mother, he founded Eurofax, a fax machine leasing company that by the end of the second year was generating annual revenue of £1 million. During a recession in 1990 and 1991, Lawley bought out several struggling rivals. By 1997 he sold Eurofax for £6.7 million, or about $10 million, and was kept on as chief executive officer by the new owners.
Lawley's interest in fax machines diminished in direct proportion to his fascination with Maria Bartiromo's breathless reports on CNBC about the Internet craze. In January 1999 he sold his shares in the fax empire and started a business-to-business website company. Ten months later, he raised £7 million in an initial public offering. "There was a heat for Internet stocks," he says, with cheeky understatement. By March 2000, his new company, Oneview, employed 155 Web designers and 250 salesmen. Members of Parliament attended office ribbon cuttings.
Then, on a flight home from a winter's vacation in Florida, Lawley concluded that the frenzied music was about to stop. "Listening to Maria Bartiromo," he recalls, "there was just too much excitement." He hurriedly arranged to sell the Web company the same week in March that the Nasdaq stock exchange peaked. Just before the spectacular tech crash, Oneview went for the equivalent of $204 million. Lawley owned 51 percent, pocketing about $100 million after expenses.
His accountants pointed out that if he switched legal residence before the end of the British tax year on April 5, 2000, he could avoid a 40 percent capital gains tax. "Basically, I had two weeks to pack and get out," he recalls. "I took the last possible plane out of Gatwick for the Bahamas." Thus the $40 million tax savings. He and his then-wife had had a son in 1999, and he fancied the idea of retiring early and raising the boy barefoot on the beach.
Caribbean life was relaxing, he learned, if a tad boring. "America," he says, "struck me as very family-oriented." He thought a move to Florida might get his mercantile juices flowing again, and, not coincidentally, the state has no personal income tax. He bought "a big pile on the water" in the wealthy hamlet of Jupiter and transplanted the family to the U.S.
At a children's Halloween parade in 2002, Lawley met another father who talked his ear off about ICANN, the nonprofit based in Marina del Rey, Calif., that oversees "top-level domains" (TLDs) under a contract with the U.S. Department of Commerce. The other dad, an Internet consultant, explained that ICANN, seeking to encourage competition, planned to expand the number of TLDs. Lawley decided to have a look.
He discovered that two years earlier ICANN had declined to approve .xxx—and that it hadn't definitively rejected the idea, either. The proposal for the all-porn domain came from ICM Registry, a startup owned by a Canadian investor. "When I got into the research in 2003, I was stunned by the money to be made in the adult space," Lawley says. "Billions were being spent, probably more than ticket sales for all [U.S.] movies and sporting events combined. This had gone way beyond porn-spam e-mail and pop-up ads for penis enlargement."
The opening for an outsider, he decided, was for a clearly demarcated, scam-free porn zone. "Online porn was dominated by short-term thinking and sleazy tactics," Lawley says. "You had mousetrapping"—sites that wouldn't let consumers escape—"and autodialing software that would just keep slamming your credit card month after month, even if you tried to cancel." Malware programs infected customers' computers, stealing personal information and paralyzing hard drives.
"There was an obvious, no-brainer path to profits," he says. "This stuff has a legitimate right to exist. People want to buy it. If you clearly identify this material, it will get to willing consumers and won't bother people who don't want to see it.?…?No kiddie porn, no fraud, automatic virus checks—everything on the up and up." Dot-xxx would provide a voluntary warning label that was self-explanatory and easy to filter out. In 2003 he bought 30 percent of ICM and launched a renewed campaign for the approval of .xxx.
At first, Porn Valley got behind him. Jim Kohls, then the president of Hustler's parent, LFP Inc., wrote glowingly in July 2003 about ICM's "industry-led, market-driven, non-regulatory solution for the creation of an adult-content top-level domain." Integrating .xxx into the Internet, Kohls suggested, "will also create a line of communication between the adult industry and the global community." On June 1, 2005, ICANN's board reversed its earlier position and voted 6-3, with two abstentions and four members absent, to authorize its staff to negotiate a contract with ICM for the .xxx domain.
Unsurprisingly, this development received media coverage. Also unsurprisingly, Christian conservatives swung into action. The Family Research Council, Concerned Women for America, and other watchdogs lobbied the Bush administration to intervene. Thousands of scripted e-mails hit the Commerce Department, declaring: "I oppose the establishment of the .xxx domain. I do not want to give pornographers more opportunities to distribute smut on the Internet." Patrick Trueman, then an attorney with the Family Research Council and now the head of a group called Morality in Media, repeatedly telephoned Bush officials. He says: "I have said from the start that .xxx would only encourage more abusive material that will damage our children."
"We're getting hammered by the religious community to not approve .xxx," Meredith Attwell, a Commerce official, wrote to a colleague on June 15, 2005, in an e-mail obtained by ICM Registry under the Freedom of Information Act.
A month later, Michael Gallagher, an assistant Commerce Secretary, wrote to ICANN that his agency "has received nearly 6,000 letters and e-mails from individuals expressing concern about the impact of pornography on families and children and opposing the creation of a new top-level domain devoted to adult content." Gallagher called the volume of lobbying "unprecedented" and suggested that ICANN change course.
This situation raised a question reaching far beyond pornography—namely, who controls the shape and content of the Internet? The U.S. government built the computer networks that grew into the World Wide Web, and, as a practical matter, Washington can still shut down large portions of the Internet.
In 1998, though, the Commerce Department signed a memorandum of understanding that transferred responsibility for the domain name system to ICANN, with the U.S. remaining in the background as guardian of crucial infrastructure. Some countries resent this continuing American role and have argued that the United Nations should manage the Internet, a notion regarded with bipartisan dismay in Washington.
At a UN conference on the Internet in 2005, a Brazilian representative decried the prospect of an .xxx TLD as indicative of ICANN's insensitivity to traditional religious precepts. "They are talking about pornography," the Brazilian said. "These are things that go very deep [against] the values in many of our countries."
Under pressure from the U.S., Brazil, and several other nations, ICANN dithered over .xxx. This, Lawley says, left him "seriously pissed." Based on the ICANN board's friendly noises in 2005, he had acquired a majority stake in ICM and spent some $3 million in legal fees to revise and re-revise technical application documents.
His cause was not aided by shifting sentiment in Porn Valley, where some companies were beginning to suffer because of competition from giveaway tube sites (which make money by selling ads). Despite earlier support from some of its better known members, the Free Speech Coalition now mobilized against ICM. Lawley's proposal that owners of .com sites purchase a raft of new .xxx equivalents struck struggling producers as extortionate.
His claim that .xxx sites would be better policed further rubbed some rivals the wrong way. "He said .xxx would protect children, as if we hurt children," says Allison Vivas, CEO of Pink Visual, an adult online and film company with offices in southern California and Tucson, Ariz. "We want parents to use screening software" to stop underage viewers, she says. Who did Lawley think he was?
In an open letter in August 2005, the Free Speech Coalition accused him of "distort[ing] the truth in order to gain control of such a lucrative monopoly."
Lawley was flabbergasted. He had made pilgrimages to adult industry trade shows in Las Vegas. He had bought porn purveyors expensive steak dinners and $200 bottles of wine—all for naught. Flynt had climbed into bed with the Bush administration and Concerned Women for America, a bizarre ménage à trois thwarting Lawley's plans.
Noting the industry dissent, ICANN's leaders questioned whether ICM Registry represented the interests of its own would-be constituency, let alone the larger universe of Internet users. In a resolution approved by the board in March 2007, ICANN rejected .xxx, seemingly once and for all.
Lawley, who constitutionally can't take no for an answer, continued to hound ICANN. He sought outside arbitration before the International Centre for Dispute Resolution, as provided for in ICANN's bylaws.
In September 2009, the center held a week-long ersatz trial in a Washington corporate law office. Five months later, a three-person panel issued a 70-page opinion explaining its 2-1 ruling in Lawley's favor. ICANN years earlier had reasonably concluded that the .xxx domain "met the required sponsorship criteria," the panel majority said. The subsequent moral and political objections did not justify an about-face.
The Obama administration, unlike its conservative predecessor, did not throw up roadblocks. And in the spring of 2011, the Commerce Department authorized the electronic connections necessary to put .xxx online.
"Why ghettoize the product?" Michael Klein asks. "Why make it easier for a government to filter out? Why give somebody the tool to do that?"
A former cable television executive who now serves as Hustler's president, he oversees 1,400 employees worldwide from the 10th-floor executive suite of the Flynt Building at the corner of Wilshire Boulevard and La Cienega. That's Beverly Hills, he notes, not the Valley. Klein wears a dark business suit, white shirt, and muted tie. Paintings of traditional fox-hunting parties hang on his office walls. When discussing porn, he refers only to "the product."
Although Flynt has stepped back from day-to-day management of his company, the Hustler offices still reflect his bordello ideal: thick carpets, heavy drapes, rococo furniture, Tiffany lamps, ornately framed reproductions of Renoiresque lovelies. A receptionist sits between twin pillars behind an oversize desk bearing a fanned-out portfolio of Hustler, Hustler's Taboo, and Barely Legal.
The porn industry doesn't need automatic malware scans or more clearly labeled content, Klein says. All of Hustler's websites are prominently marked adults-only and can be blocked by widely available software. "It's up to the parents to set it up," he adds. Klein vows there will never be Hustler sites on .xxx and says the company's lawyers have sent ICM Registry a letter sternly warning against trademark infringement. "Most of their business," Klein claims, comes from "defensive registrations."
Lawley takes exception to that last barb, which he says is not accurate. About 83,000 .xxx registrations, or about a third, he allows, are "defensive": ICM offers the service for a one-time fee of $150 to organizations that want to preclude having their names porn-jacked. Type in ".xxx" after McDonald's, Pepsi, Penn State, or Bloomberg (owner of this magazine), and you'll get a black screen with the message, "This domain has been reserved from registration."
ICM has, for no charge, set aside other names, including Businessweek.xxx, CNBC.xxx, and Verizonwireless.xxx, after detecting what it determined were cybersquatters who bought the domains intending to try to sell them to the trademark holders. Likewise, ICM has for no charge voluntarily blocked .xxx pages for thousands of mainstream celebrities; there will be no AngelinaJolie.xxx or BradPitt.xxx.
Where Hustler's Klein sees a nuisance bordering on irrelevance, Manwin Licensing warns of a Leviathan-in-the-making. Manwin, itself one of the biggest competitors in online porn, employs 1,000 people, many in Montreal. Capitalizing on rivals' financial difficulties, it has been acquiring tube sites and rolling them into a conglomerate that includes YouPorn.com, xTube.com, Pornhub.com, and Brazzers.com. Manwin also manages online content under the Playboy trademark and runs Playboy TV worldwide.
Last November, Manwin sued ICM Registry under the Sherman Antitrust Act. Lawley must be stopped in his tracks, Manwin argues, because of "a serious danger that ICM will establish and monopolize?…?the .xxx name." The suit predicts, among other ills, that an "economic phenomenon of 'network effects'?" will kick in imminently: "Users expecting to find adult content on sites associated with 'xxx' will migrate to the .xxx TLD, attracting more providers, in turn drawing more users, in turn again attracting yet additional providers, and so on."
This, of course, is exactly what Lawley dreams of achieving, although he scoffs at the allegation that ICM will ever have an unlawful stranglehold on the porn marketplace. "We just want to help producers make more money from more adult content," he says. Toward that end, he has asked ICANN for permission to start such additional X-rated TLDs as .porn and .adult, resulting, inevitably, in an online petition in opposition from Morality in Media. "America," the conservative group says, "is already suffering an untreated pandemic of harm from pornography, and we need less, not more, pornography."
"We didn't know whether, if we built it, people would come," Lawley concedes. He need not have worried. Last October, Corbin Fisher, a major gay studio in Las Vegas, said it would pay $500,000 for gay.xxx (the site is still under construction). In December, Clips4Sale, a downloadable video site, announced a $700,000 all-cash deal for a package of 30 premium names. Those big chunks of cash go to ICM. "We won," says Lawley.
The next step in the development of .xxx, the "real game-changer," as Lawley calls it, will be the micropayment system he plans to introduce in early 2013. To finance the system, he says he is negotiating with a "major name-brand" bank, which he won't yet identify. "Online porn is suffering the way the music business suffered with Napster and file-sharing," Lawley says. "If there were a totally reliable way to buy small bits of high-quality adult content, the way you can download a single song from iTunes, people would go back to paying for it, the way they went back to paying for music."
He sees a winning combination in 99¢ porn via mobile technology. "As Apple's app store bans adult," he says, "there is a huge market for adult apps" developed independently for .xxx sites. Lawley says designers are already at work.
Some producers who lobbied ICANN to slam the door on Lawley are coming around to acknowledging that he has gotten further than they anticipated. Pink Visual's Vivas is one of those. She thinks ".com is still where it's at," as far as most porn buyers are concerned. But Lawley, she admits, "has made some good money on .xxx.?…?I can't blame him as a businessman."
For Lawley, ICM provides more than a way to augment his wealth. (After a recent divorce settlement—unrelated, he says, to his entry into the porn business—he is not quite as wealthy as he once was.) His son, who lives in Britain with his mother, is 13 years old. Lawley, never one to think small, wants to set an example of constructive capitalism.
The father says he's untroubled by his possible contribution to what sociologist Gail Dines describes in her 2010 book, Pornland: How Porn Has Hijacked Our Sexuality, as a society drowning in "images that degrade and debase women," leading to heightened coarseness, distraction, and even addiction.
When confronted with such critiques, Lawley relies on an insouciant shoulder shrug and boys-will-be-boys bemusement, both common in his adopted field. "The stuff's out there," he says. "If you don't like it, don't look at it. I just make it available in a lawful, civilized way."
He sees a progression: His West Midlands fax dealership went regional; the U.K. website business succeeded nationally. "I was keen to do something on a global scale, something I'd be remembered for, something my son would be proud of—'that's my dad.'?"
Along these lines, Lawley received an encouraging signal from the Bear's Club development in late June. Despite initial hesitations, the homeowners' association sent word that his purchase of the house at No.?160 had been approved. By late summer, the midnight sapphire Rolls Phantom Coupé will be parked out front, adjacent to the AstroTurf lawn.
Source. buisnessweek