Below are the results of our year-long investigation into the restraining order filed by AHF employee David Patrick Cope a.k.a. Patrick Stone.  This story isn't for the faint of heart.
According to my sources, on August 27th, a blogger posted as fact that one Ari Bass aka Michael Whiteacre aka Devil Man was served with a restraining order on August 26th.
At 1340 hours this investigative blogger alerted his news team. All of us put in overtime to get to the bottom of the Whiteacre restraining order.
After some digging, and sex with a fat chick we uncovered this: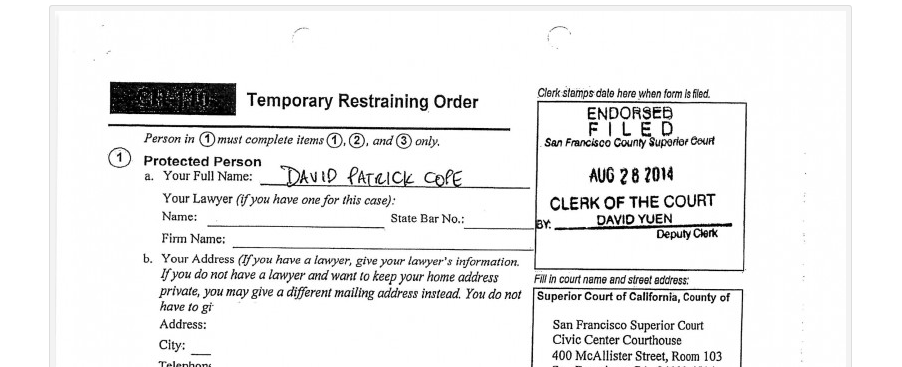 The TRPWL news team is confused. How can a TRO filed on the 28th be served on the 26th?
Better yet, after checking with the court and Whiteacre it would appear that at the time of this writing it has yet to be served.  Odd to say the least…
It also seems Patrick Stone was so scared when Whiteacre approached him on a public street on Aug 17th, he forgot to call the police, then, still scared out of his mind, he waited until after a story about Whiteacre getting served was published (11 days later), to ask for a restraining order. A restraining order against a man who was already 600 miles away. It's almost as if he was put up to it… Weird, huh?
I know that some may find this odd, but here at TRPWL when we write stories we ask for quotes — not only from the subject, but from many sources. If you look through our posts we constantly add quotes or changes as they come in, even if the story is weeks old.
Whiteacre reached out to Stone for a quote for this story. That's what journalists do, they talk to ALL sides…
The TRPWL news team presents its findings below:
Anyone who thinks Whiteacre has been served with a TRO is a fucking idiot.