From our friend and TRPWL contributor Christina Parreira —
While I typically ignore the rantings and ravings of insignificant gossip bloggers, I feel that it is appropriate to step up and clear the air on a couple of matters.
For the last several months, both my husband, Ari (known to many of you as Michael Whiteacre) and I have been the targets of a smear campaign spearheaded by a gossip blogger whom my husband exposed as a liar; a suspected embezzler; a homophobe; a defamer; and a dangerous (amateur) producer who shoots without STI testing or condoms and recruits (untested) male talent on escort boards while screaming that the Los Angeles adult business is unsafe.
This blogger is a hypocrite, an outer and shamer of escorts, a promoter of Shelley Lubben's anti-porn group Pink Cross Foundation, and a danger to sex workers. As my husband's reporting revealed, this same man assaulted a stripper in Ohio, fled the jurisdiction, and then had an arrest warrant hanging over his head for six months before eventually taking a plea deal.
His attacks on our family have been made with malice, in retaliation for my husband's reporting, and focus on certain DV charges that have come to light in recent months. These semi-literate blog posts paint my husband as a monster, chronically beating me. Anyone who knows us knows that this is a laughable accusation, just as anyone with even a rudimentary knowledge of law enforcement operations in Las Vegas knows that, when the cops are called, most of the time the male is getting carted away.
These are matters that should have remained private. However, now that they are in the public sphere, I personally feel a responsibility to fill in some gaps in information that gossip bloggers are not privy to (although I doubt they would be interested in factual information if it were available).
One matter this individual has brought up is a Los Angeles case from the 1990s in which, he has stated as fact that my husband beat his ex-wife. This is an outright lie. Not only did the incident not involve any physical violence, it occurred long after their divorce (his wife was then living in another state). In reality, my husband was charged with a misdemeanor after he rescued his live-in girlfriend from a dangerous situation (a drug den). Not only wasn't she the alleged victim, she's still a close friend of my husband, and, most recently, attended his birthday party.
The incidents involving myself and my husband were the result of my medication complications, along with other factors that I do not feel the need to go into. In addition, one of the cases he cites actually lists my husband as the victim and me as the perpetrator. Both of us were ordered classes; neither of us has been imprisoned. Contrary to this blogger's defamatory assertions that my husband is penniless, in reality he has hired one of the finest criminal attorneys in the state to resolve the outstanding charges.
The blogger's claim that my husband faces felony charges is another lie. Often, in Clark County, they will file charges that are ridiculously high. This means more money to the County (and bondsmen) because the bail amounts are higher. When the case hits the desk of the city attorney, the charges are then reduced.
When, this summer, AHF employee Patrick Stone filed a TRO against my husband to silence his reporting, the blogger's fingerprints were all over that matter, too. My husband won that case easily. Unsurprisingly, that outcome was never reported on the blogger's site.
I too have been the target of this gossip blogger's personal attacks, which should make it clear that he launched this campaign out of butt-hurt, and not a drive to defend a damsel in distress. He has called me, among other things, a drug addled psychotic, insulted my weight, and stalked my social media to tweet the people with whom I interact for the specific purpose of interfering with my professional relationships.
This malicious misfit has even posted my husband's traffic court case, pointing out the citation for lack of insurance. He was driving me in my car that day. The car was fully insured, but I had forgotten to place the latest Proof of Insurance in the glove box. I can't believe someone has nothing better to do than publish this nonsense.
Months ago, I tried to shed light on these facts by posting a comment on said gossip blogger's site, but he refused to allow it to be published. That should tell readers all they need to know about his integrity.  He is not interested in the truth or "news," but rather in tarnishing the reputation of those who have exposed exactly who he is: a nobody and a pariah who spins fancy lies on a barely readable site.
As much as we laugh at this blogger's attempts to harass us (and we do mock him fairly regularly), I'm sick of being painted as a helpless silenced victim. Anyone who knows me would laugh out loud at this caricature, and I am setting the record straight once and for all: my husband does not beat me.
Now please excuse me while I celebrate Christmas and my birthday with the love of my life.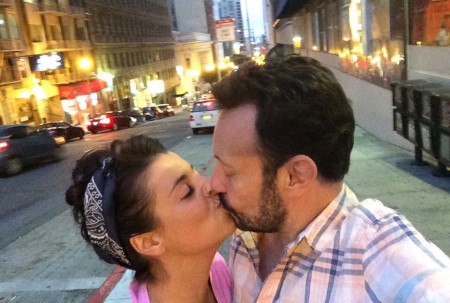 Happy Holidays
Christina Parreira