SAN FRANCISCO — When Charles Lucas was freed from Kern Valley State Prison last weekend, he had an unlikely team to thank. The Three Strikes Justice Center, a nonprofit law center which helps commute inmates serving life sentences for non-violent offenses under California's "three strikes" law, and the company that helped raise the crucial funds — San Francisco's Kink.com.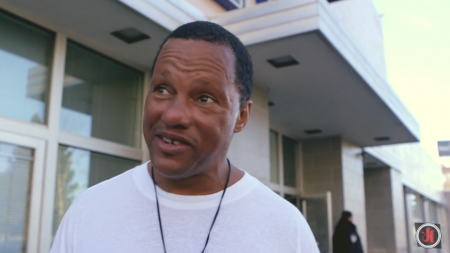 "This was a blessing," said Lucas in a video interview upon release. "I'm thankful to be here. I'm free!"
Charles Lucas is the first inmate to be freed by the Three Strikes Justice Center co-founders, attorneys Givelle Lamano and Angeli Fitch, who struck an unusual partnership with adult entertainment company Kink to help raise the funds for Lucas' case and others.
"Last summer, we faced a major crisis," says Lamano. "Hundreds of cases that were eligible to be commuted were facing a deadline to file, and many inmates did not have enough resources to even pay for postage. We were woefully underfunded. Peter Acworth of Kink heard about the cause, and because of his own experience with the justice system, offered to put together a fundraiser."
The BDSM and fetish entertainment company — the world's largest — first hosted a fundraiser in the Armory Club, a bar owned by the company; later owner Acworth hosted a fundraising dinner at the San Francisco Armory, the converted military space where the company films. Additionally, Kink used its email lists and placed ads on its websites to raise awareness and funds for the cause.
"We need to do more to free people like Mr. Lucas," says Acworth. "The three-strikes law resulted in tens of thousands of men and women getting life sentences, often for minor crimes like drug possession. As someone who has made mistakes in my own life, and has seen firsthand how differently the justice system treats those with resources, and those without, this became an important and personal cause."
Acworth has previously written about his own experiences, and his reasons for supporting the TSJC on his own blog.
"Hopefully, Charles Lucas is just the first of a long list of men and women who will have a chance at a new life," says Lamano. "There's more work to do, and we hope that more people like Peter will step up to make it happen."
Kink plans on hosting another fundraiser, the Cinco de Kinko, for the TSJC on May 1. In the meantime, donations to the Three Strikes Justice Center can be made at http://www.threestrikesjustice.com/.
Footage from Charles Lucas release is available here:
https://www.youtube.com/watch?v=IsjDV71YJac
More information about Kink's May 1 fundraiser for the Three Strikes Justice Center, is available here.
http://cincodekinko.com/
For more information, or for additional footage, photos, or interviews, contact:
Mike Stabile
Media Relations, Kink.com
stabile@kink.com
415.710.9184