Activists from Ukrainian feminist group FEMEN staged yet another topless protest Saturday in Davos, Switzerland.
Picketing outside of the 2013 World Economic Forum (WEF), the trio of women chanted "S.O.S. Davos," shot off flares and blew whistles in a demonstration against what they say is male domination of the world economy, Independent Television News reports. Swiss police detained the women after they tried to breach the security barrier.
Top financial officials met last week at a resort in Davos, Switzerland, to discuss the stabilization of the world economy and fiscal policies. The conference wrapped up over the weekend.
This is the second consecutive year FEMEN has staged a topless protest at the annual economic forum.
With "S.O.S. Davos" written on their chests and "Poor for being women" scrawled on their backs, the women pushed their way past a security fence before they were forced back and carried away by authorities.
In a statement released Jan. 26, FEMEN called on the world leaders at the meeting to stop "imitating concern about the fates of women," according to Radio Free Europe/Radio Liberty.
"Today FEMEN activists came to scream S.O.S. in Davos, S.O.S. from all women from all over the world, because we are tired of looking at those guys who are under protection, eating caviar and drinking champagne pretending they care about (the) women question," protester Inna Shevchenko told the Agence France-Presse.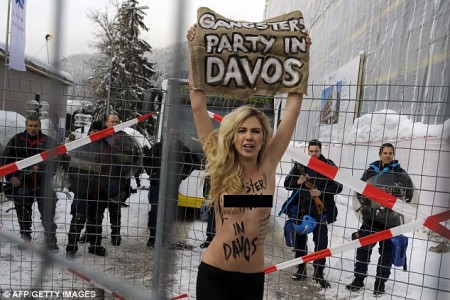 Shevchenko, who was also involved in last year's WEF protest, made a name for herself in August after she destroyed a wooden crucifix using a chainsaw to demonstrate her support for the embattled members of Russian punk band Pussy Riot.
Founded in 2008, FEMEN has garnered an international reputation for its half-naked exploits. In December, four topless FEMEN activists took on Russian President Vladimir Putin, declaring "Putin is the Apocalypse!" during a summit in Brussels, Belgium. In November 2012, members of the group donned habits to support gay marriage in France.
Video: Topless protesters from the activist group Femen have been arrested after clashing with police at the World Economic Forum in Davos.
Also read Topless Protesters Rally In Front Of The General Prosecutors Office Of Ukraine
Topless Feminist Activists, FEMEN, Topless Trophy Tipping