The leading lady of UFC has been jailed for domestic violence.
Arianny Celeste, who has appeared on the cover of Playboy, spent several hours in a Las Vegas jail after being held by police.
The 26 year old beauty was booked into the Clark County Detention Center under her real name of Arianny Lopez.
Her arrest meant she missed the UFC 146 fights being held in Las Vegas.
After her release from jail on $3,000 bond UFC President gave her his full support.
He told TMZ.com: 'Arianny is our baby. She has been with us for over five years. She is a good girl and an amazing ambassador for UFC.
'I don't know all the details of what happened but we have her back and support her 100%.'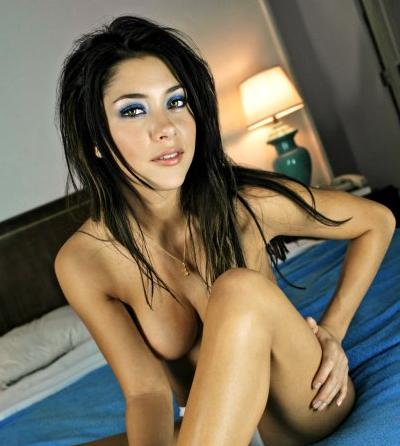 Lopez appears to have been dining with friends prior to her arrest.
She posted a smiling photo of herself in what appeared to be an evening dress on Friday night.
The photo caption read: 'Dinner at Mizumi,' the new restaurant at Wynn Las Vegas.
A few hours later, she tweeted another picture of herself with a male companion who appeared to be kissing the side of her face. The caption: '??! forever n always??'
According to the Las Vegas Review and Journal her last tweet, posted at about 3:30 a.m., showed her making a fierce, frustrated face like she was having a meltdown.

The caption read: 'I be going crayyyy ha hey bay bayyy.'
Celeste, who says she gets up to a dozen marriage proposals a week, describes herself as a 'lover not a fighter' on her Twitter bio.
As well as Playboy she has featured in Sports Illustrated, Maxim and FHM magazine.
Source: DailyMail