Vasalgel, a new, first-of-its-kind form of birth control, will provide men their own form of contraceptive treatment.
Vasalgel could replace condoms as a means of male birth control in just a few years. Tests studying the effect of the drug on baboons were very successful. As the Daily Beast reported:
Three lucky male baboons were injected with Vasalgel and given unrestricted sexual access to 10 to 15 female baboons each. Despite the fact that they have been monkeying around for six months now, no female baboons have been impregnated.
Human tests are due to commence at the beginning of 2015.
Birth control with the drug is not achieved using hormones, like the popular female "pill." Instead, it temporarily blocks the tubes via which sperm flows from a man's testicles.
Vasalgel is a polymer material which is injected, by a physician, into the vas deferens, a tube which carries sperm through the male reproductive system. This material blocks sperm cells from passing through to mix with semen. This same tube is cut during vasectomies, but unlike that procedure, this new technique is easily reversible.
Vasalgel could be available to consumers beginning in 2017, if tests are successful and approval is not delayed. Once implanted, the polymer is designed to last an "extended" period of time.
Parsemus Foundation, a non-profit organization dedicated to developing low-cost healthcare, created the new process.
Development of the product has received new funding from the David and Lucile Packard Foundation. According to their FAQ page, they hope to see it on the market by 2017 for, in their words, less than the cost of a flat-screen television.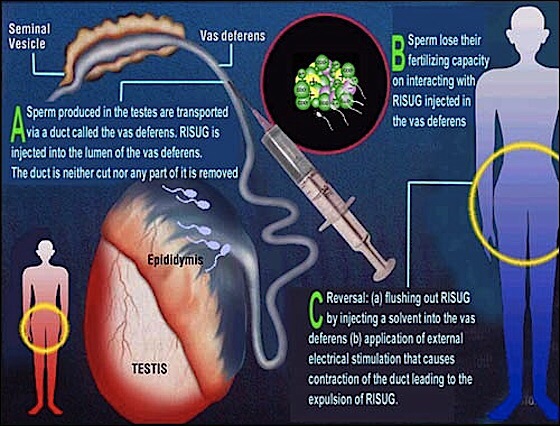 Tech Times / Refinery29