San Francisco – Zoey Monroe has had two previous visits to Kink.com's Hardcore Gangbang, but it's the third time that's the charm. The new video titled "Princess Peach Fucks Her Kingdom" is available now on Kink.com.

Zoey has spent some time in the psych ward, trying to stop her alter-ego, Princess Peach, from flying back to the video game world she rules. But things go awry and she is released to train an army of brave men. What better way to do so than with ALL HER HOLES? The warriors' mission, should they choose to accept, is to rail the shit outta this bratty little Peach. Zoey gets anally gaped, DP, and shows her special ability isn't flying, but squirting.
A jubilant Zoey exclaimed, "It was my most favorite day in porn! I fulfilled three of my biggest fantasies: Being a princess, being a psych patient, and having the guys dressed up as animals. Tommy Pistol made my fantasies come true!"
Kink.com has definitely made the fantasy of many-a-gamer come to life, that's for sure! Of his part as director, Tommy Pistol said, "Being [as I had never] directed Zoey Monroe before she had a specific fantasy for her gang bang that I was so delighted to bring to life for her and Kink.com. Zoey was the perfect princess and for a tough scene to some – she took 5 male talents like a champ. The end product was a 'kinky wonderland of perfection,' and for all her fans it's a must own for their collection."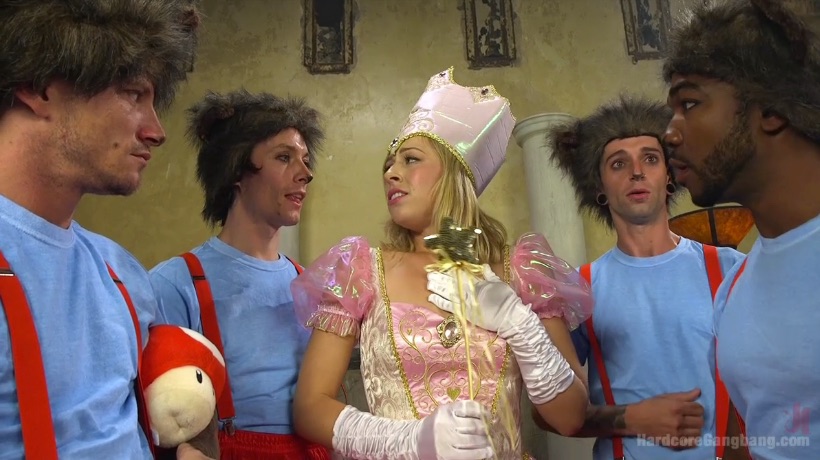 To see Zoey Monroe taking on Mr. Pete, Mark Wood, Owen Gray, John Johnson, and Gage Sin in a scene for the books, fans should go to Kink.com and check it out now!
Zoey Monroe is available for a variety of scenes including BG, BBG, BGG, anal, interracial, double penetration, gang bangs, and squirting exclusively through OC Modeling by contacting Sandra or Anthony at 818-626-9550.
Fans can find Zoey Monroe on Twitter (http://twitter.com/realnikkib) and Instagram (http://instagram.com/princessxidgaf/), have a personal experience with her at DreamLover (http://www.dreamlover.com/ZoeyMonroe) and Verified Call (http://verifiedcall.com/profiles/RealNikkiB), order custom videos through Customs4U(http://www.customs4u.com/ocm/zoeymonroe), and surprise her with at gift from her wishlist (amzn.com/w/3E4RWR4XVDNRY)
PR for Zoey Monroe is provided exclusively by XXX STAR PR. Follow us on Twitter, @XXXStarPR and check out our website, xxxstarpr.com. For interviews or media inquiries, contact xxxstarpr@gmail.com.