Golf may not match the pneumatic, high-octane pizzazz of the NFL, but this weekend the Presidents Cup witnessed some illicit entertainment as a patriotic streaker gatecrashed the 18th hole and managed to evade law enforcement at Muirfield Village Golf Club in Dublin, Ohio.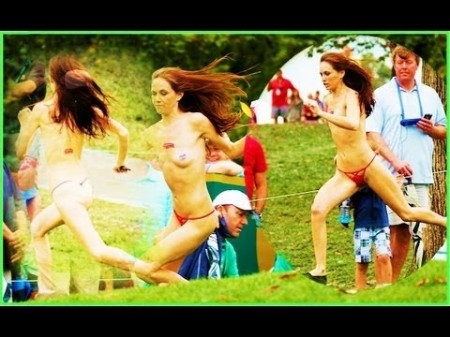 As American Captain Fred Couples stared on with a bemused look on his face, the red-haired fairway invader charged down the final hole of the 2013 Presidents Cup on Sunday basically nude bar a thong and heart-shaped American flags covering either side of her chest.
Bringing excitement to golf's more sedate sensibilities, the streaker unfurled an American flag for part of her performance as police tried to grab her but missed. In fact, some reports said that she escaped the law altogether.
Photographed around 2 p.m. as she burst onto the fairway, the streaker was not short of encouragement as one fan reportedly yelled, 'God bless America!'
It was also reported that the woman was sporting a message on her back that read, 'Support Our Troops.'
Possibly encouraged by the victory of the American team in the Presidents Cup, the streaker managed to escape into the woods. Some witnesses remarked that if she had stashed her clothes in a good place, she may have been able to walk straight out of the Muirfield Village Golf Club in Dublin, Ohio.
The United States won the Presidents Cup for the eighth time, beating the Internationals 18.5 to 15.5.