Finally, one of the most celebrated actors of all time gets the recognition he truly deserves! Forget the Oscars and Emmys and Golden Globes and ESPYs, WoodRocket.com presents the only lifetime achievement award that Bill Murray will ever need: the adult parody photo shoot, Orgy of Bill Murrays.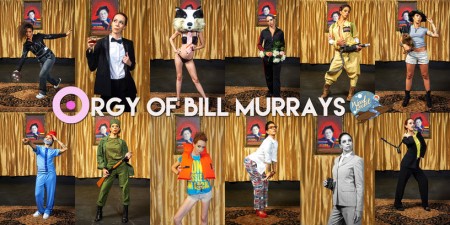 Available now for free on WoodRocket.com, Orgy of Bill Murrays pays super-sexy tribute to the comedic legend's most beloved movie characters from Ghostbusters, The Life Aquatic With Steve Zissou, Caddyshack, Lost in Translation, Moonrise Kingdom, Broken Flowers, Stripes, Kingpin, Ed Wood, Rushmore, Fantastic Mr. Fox, and even What About Bob?
If you've always wondered what Bill Murray might look like with a vagina, here is your chance to find out!
From WoodRocket.com, the porn website that brought you the hits parodies, Bob's Boners & Nicolas Cage Sex Party, comes Orgy of Bill Murrays, a hilarious and boob-filled Cosplay collection that is so mind-blowing it will have you wishing you could wake up and see it over and over and over and over again!
Featuring models, Vuko, Kayla-Jane Danger, and Eva Long, Orgy of Bill Murrays, was photographed by Sexy Rick, styled by Lee Roy Myers & Seth's Beard, features costumes by Pam Barber, and a brilliant oil painting by renowned artist, Drew Harris.
Check out Orgy of Bill Murrays for free at www.woodrocket.com.
WoodRocket.com is your source for free comedy & adult entertainment. With thousands of high quality adult movies like SpongeKnob SquareNuts and Porks & Recreation, photo galleries like The Royal Tenendongs, and original web series like "James Deen Loves Food", "Topless Girls Reading Books", and "Stoya Does Everything", WoodRocket.com has been featured on Gawker, Gizmodo, The Hollywood Reporter, Jezebel, Esquire, Bon Appetit, Vice, Fleshbot, and more. WoodRocket.com's Game of Bones and The Knobbit parodies were even trivia questions on the highly acclaimed Comedy Central show, @Midnight.