One of the busiest and prolific adult actresses working today is Tanya Tate. The UK born beauty will be making an appearance at the upcoming AVN Show held in Las Vegas and to make sure you know what she is going to be up to, the social media savvy star has posted a video on her popular Youtube Channel.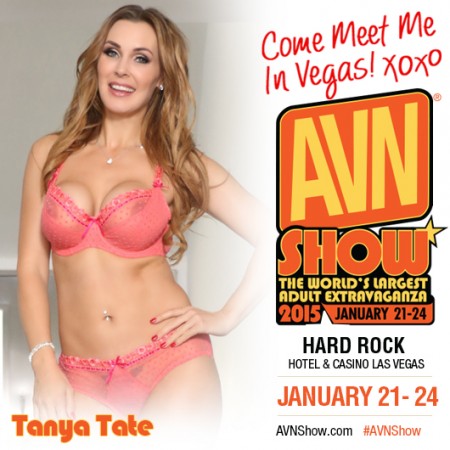 The video has skyrocketed in views as fans have been taking note of where they can meet porn's cosplay queen. Watch the video below as Tanya tells you what she has in store for the AVN Show:
January 21st
Playing Dress-Up Panel – 8:30pm in Vinyl
Tanya will be be hosting a seminar with geeky adult starlet Ela Darling! Stop by to hear them talk about the sexy ways you can play dress up in the bedroom.
January 22nd – 24th
Hot Movies / Talk To Me Booth Signing
Meet Tanya Tate! Get an autograph or take a selfie with her!
January 22nd & January 23rd
VividRadio.com – Noon PST
Can't make it out to Vegas for the AVN Show? Listen to her radio show! It's going to be packed with naughty ladies and who'll be talking about the partying and sexy fun at the event.
January 23rd
Comic-Con Crossover: Are You Engaged? – 2pm in Studio 1B
Tanya will be on another panel talking about Comic Con and the ways adult entertainment have been marketing at the event.
The 2015 AVN Show / Adult Entertainment Expo takes place at the Hard Rock Hotel in Las Vegas January 21st – 24th, 2015. More info can be found here.
Keep up with Tanya via her official Twitter profile – @TanyaTate
Interview requests for Tanya Tate can be made to Star Factory PR here: info@starfactorypr.com.