LOS ANGELES—(August 24, 2015)—Multi-award winning adult performer Kristina Rose will launch the new Vivid Radio program "Canela Tales" on Wednesday, Aug. 26 at 4 pm PT.  The most listened to adult radio network is available on VividRadio.com  and on the SiriusXM app channel 791. All of the hosts on the network are top adult performers.
Kristina was born and grew up in San Diego.  She started her career in a customer service job for an adult web site, but then the web site moved, she lost her job and the only companies that responded to her resume were in the adult industry.  She became an assistant to a photographer, who encouraged her to model, a suggestion she took several years later to great success.  She began appearing in adult films in 2007 and went on to win a series of awards.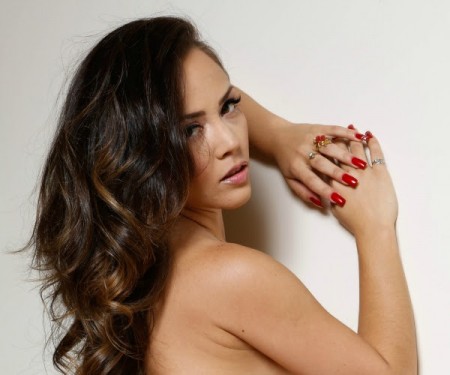 "Kristina's show has a unique twist in that she has developed special relationships with inmates in maximum security prisons," says Vivid Radio's general manager Farrell Hirsch.  "The inmates are among her biggest fans and she will be taking calls from them every Wednesday."
"You might say that the inmates will make conjugal visits with me on my show," says Kristina. "I was a slut before porn, so it's not that I'm faking my sexuality. I guess you could say I've always been sexual and the sexuality I exude got me offers to do porn. The money originally motivated me to do porn, but my natural sluttiness has made me a success in the game."
Kristina adds, "Vivid Radio is going to be a natural for me because I'm very non-intimidating. I'm that barrio girl from around the way…the one you had a crush on but could still fart in front of. I can't wait to be in touch with my fans and meet a whole bunch of new ones."
About Vivid: Founded in 1984, Vivid Entertainment is known as the leading source for quality erotic film entertainment. It achieves wide brand-name awareness through its films, innovative marketing and licensing programs for products ranging from condoms to vodka and apparel to gentlemen's clubs. Vivid's movies are seen online, in DVD, VOD and on VividTV worldwide. Its Vivid-Celeb imprint made "celebrity sex tape" a now famous term and helped launch the Kardashian phenomenon in the process. Vivid is the most awarded studio in the history of the industry. Vivid's 24/7 radio channel is available on vividradio.com and the SiriusXM app 791. For more on Vivid visit twitter.com/VividCorp or facebook.com/Vivid.
Media Contact:  For more information email jackie@vivid.com.