Adult superstar Sara Jay (http://www.SaraJay.com) jets to England this weekend in her last appearance of 2014.  The always popular star headlines on Saturday night December 13 at @ClubKHounslow in West London, 236 Hounslow High St. TW3 1HB.  Sara is celebrating three new releases this week through PurePlay Media "Sara Jay Loves To Fuck Interracial", "Sara Jay Loves To Fuck Girl on Girl'' and "Sara Jay Loves White Chicks And Black Dicks" (http://bit.ly/1GgMMD8).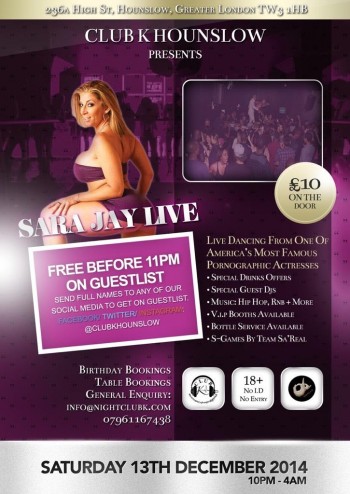 It has been another busy 2014 for the star who also released "#TeamBJ – Do You Have the Balls?" in September (TeamBJ.com). She currently boasts more than 481,000 followers on twitter and more than 8,000,000 views on her YouTube Channel.
Sara Jay states: ""Its been a while since I have been in London.  I am only in town for a few days so I really hope my fans there come out to see me.  The last time I went to England it was a blast and I'm really looking forward to the trip."
Sara can be seen live on the internet at her weekly member shows at her Official Site – http://www.SaraJay.com.  She is also scheduled to appear at The AEE Expo, January 21-24 at the Hard Rock Hotel & Casino in Las Vegas.  She is nominated by AVN for Best Porn Star Website at the AVN Awards to be held January 24.