One of our favorite liars, AHF's David Cope a.k.a. Patrick Stone, is still at it
This is one of those 'no one really cares' posts. However, we care, and we will make a point of posting about Patrick Stone for the rest of this site's lifespan.
Stone is one of the people AHF used in its latest failed attempt at pushing mandatory condoms on porn, AB 1576. Stone also filed a false complaint with governmental agencies that asserted he was present on a Kink.com shoot that he never actually attended. And Patrick Stone is also the person who feeds information to a pro-AHF gossip blog.
After AB 1576 failed, someone in the TRPWL circle developed a source who informed us that Stone was employed by AHF, even going as far as to provide us with a business card. At this point we decided to write up "Was Patrick Stone an AHF Plant at Kink.com?"
We thought we should ask him about his relationship with AHF, and the provably false statements made by both himself and AHF on his behalf, now that the smoke had recently cleared on the #AB1576 hearings (Stone/Cope testified at one of them). Whiteacre was already in San Francisco on business so we decided a face to face would be in order… Whiteacre went to talk to him, saw him in a public space, Stone ran away, and we ran the story with no comment from Stone. Case closed.
Or was it?
A while later, Stone's porn blogger BFF ran a story about Whiteacre being served with a TRO. Funny thing about that TRO was at the time of the blogger's writings the TRO hadn't even been filed, let alone served. Since that original TRO filing, Stone has had it reissued 2 more times due to his failure to get it served.. Whiteacre hasn't been back to San Fran and the story is old…
Today we get hold of Stone's full affidavit connected to the TRO… and it reads like a Mike South memoir. I'm actually thinking of selling it to HBO…
The most outlandish charge is that Whiteacre has been stalking and harassing him and his WIFE since 2013…

We didn't even know Stone was married until the day after Whiteacre left San Francisco:

Notice the date is August 18th. Taking it further, showing journalistic integrity that gossip bloggers don't have, Whiteacre wanted confirmation versus simply running widely with the information we'd been handed.
Stone is correct on one thing: we did contact his wife for the story. Whiteacre reached out to her through her YouTube account that was public at the time.

This is the one and only attempted contact between MW and Stone's wife. We never heard back from her and we moved on. Just add that to the list of bullshit that comes out of Stone's mouth.
Stone talks about how he's been a "vocal opponent of the porn industry." Kinda of makes you wonder why any blogger who claims to love the industry would even consider using Stone as source, much less proclaiming him a good guy…

By "statements [he] made publicly", Stone is referring to a widely publicized AIDS Healthcare Foundation press conference at which he spoke alongside Cameron Bay, Rod Daily, Derrick Burts and Darren James on September 18th of last year.
Poor Stone…Wants to be marched out as a hero by AHF but doesn't want the scrutiny that goes with it. Patrick, if you wanna be mad, be mad at AHF, they're the ones that pulled your strings. Oh wait, you cant be mad at them, they sign your check…LOL
Here's a goody: Stone got mad at Whiteacre for posting his mugshot — a mugshot that is public record and was simply found via Google. He was so mad that anyone might find out about his arrest record that he included a copy of the mugshot in his affidavit for his TRO. Makes sense to me…
Stone, after you're done with Whiteacre you should get a TRO on David Cope for posting "your personal and private information" in a court document that will never go away.

Stone, why do you have business cards with your work info and phone number on them?  Do you give them out with conditions attached?  Here's my card, but don't use any of the info on it as its my private information, if you do, I'll be forced to file a restraining order on you and update your wiki…
Ok, David Cope, let me try and follow your timeline:
So Whiteacre came to the AHF store around 11:00am?  He tried to talk to you when you were outside smoking, you immediately went inside?  So let's say that took 2 minutes, probably less, but I'll give you the full 2 mins. He then followed you in and was asked to leave?  I'll give you another 3 mins… So 5 minutes goes by, he leaves and you call 911..
I find this part rather odd, you've included a lot of screens caps, but I don't see a copy of the police report, nor do I see the responding officer's business card. Maybe he gave it to you but told you NOT share his personal info with anyone. Weird. Typically, when police are called they provide some sort of documentation, card with case number is standard.. Who knows, maybe you did call..Never fear though, we are currently searching for the 911 call.. A 911 call that would of come between say 10:55am and when Whiteacre took this pic after you claim he was "told to leave" ..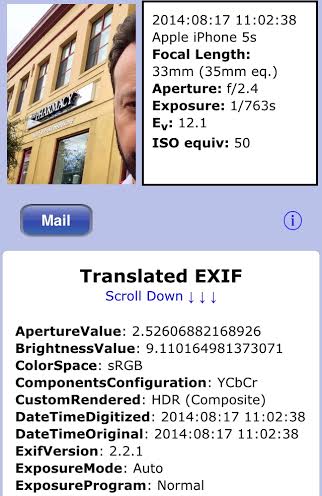 But according to Whiteacre, he went inside the store to look around — it's a public space — saw nothing, and left. He was never asked to leave nor was any threat made that the cops would be called. If that had happened, would he have stayed around to take pics?
Stone says Whiteacre rolled in around 11am, after that Whiteacre stood outside and took the picture, above. EXIF data shows it was snapped at 11:02..
In between, Stone, in fear for his life, called 911. Stone says the cops came and after they left, Whiteacre called the AHF store.
Here's Whiteacre's call log from his phone carrier.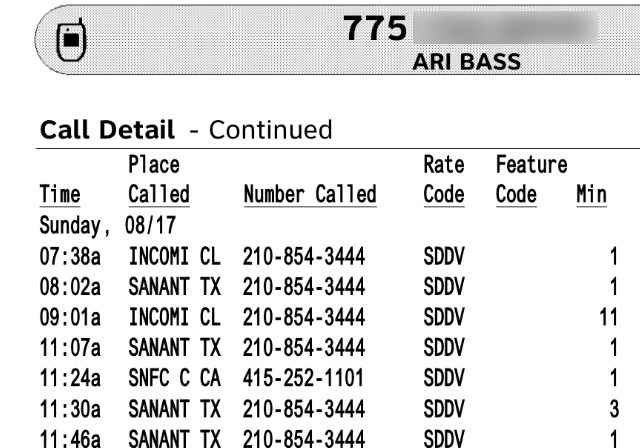 Whiteacre called me at 11:07 from outside the store, then he texted someone else at 11:12: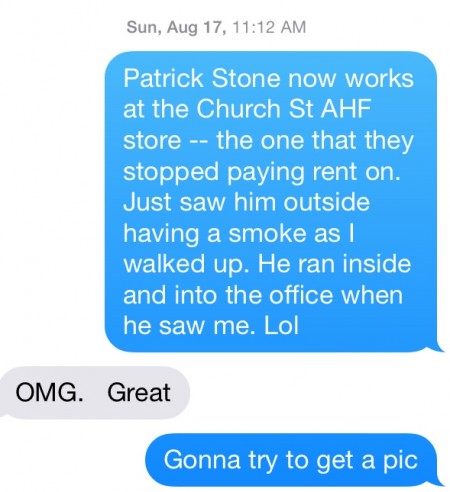 The call log shows that Whiteacre then called the store ONCE, at 11:24, while still waiting outside, hoping to talk to Stone or at least get a pic of him.
"I called him once and he hung up," says Whiteacre. "I decided to send him an email to make my intentions clear and let him know he had absolutely nothing to be afraid of. We were there working on a story and that's all."
Whiteacre's email:
Whiteacre made that call and sent that text and email from the sidewalk outside of Stone's work.
'How can we prove this?' you ask? Easily: Whiteacre took a photo at 11:30 am that shows his reflection in the plate glass of the AHF store's side door:
No cops as of 11:07am or 11:12 am or 11:24am or 11:26am or 11:30am…  WTF?
Stone, you said they showed up, but Whiteacre had already left…then when the cops left, he called and emailed. But yet, he was outside the whole time and no cops ever came.
And since we know he was there on the street, if they did come, why didn't they arrest him… or talk to him?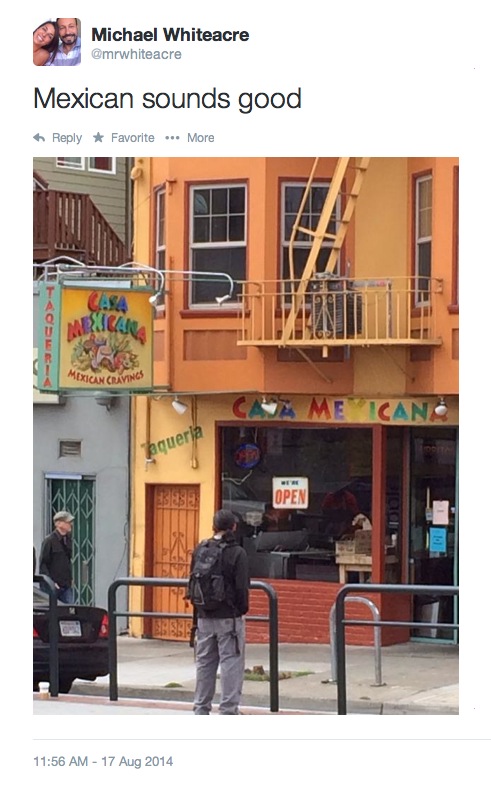 Whiteacre in fact went to a restaurant within 100ft of Stones work, NO COPS. Maybe he was busy eating his kosher beef tacos and drinking Tequila-free margaritas to notice the cops showing up.
Whiteacre says, "If the cops had actually come, would I have stuck around for a hour, tweeting my location? I came to speak to him or at least get a photo of him there to corroborate the business card. I waited outside, and when he eventually came out, he was wearing a hoodie and bolted into a side door. I did not approach him. I waited for a while at the restaurant hoping he'd change his mind. He didn't, so I left and met a friend for coffee."
I'm beginning to wonder if Patrick Stone is being dishonest??? It's almost as if Stone randomly told someone he was gonna get a TRO and have Whiteacre served at the courthouse, then when that person began telling people that it had already been done. Stone not wanting to be caught in yet ANOTHER LIE, went ahead and followed through on it.
Stone, we both know in real life you don't really fear for your safety from a guy who lives 600 miles away, No, your real angle is this :

You don't want us writing any more stories. But trust me when I say, no amount of restraining orders, court orders, or letters from AHF will ever get me to stop writing about you.
We wrote an article, we wanted a comment from you, you knew you were fucked and hid. If we're lying, send us the truth, we will print it verbatim. The same thing I did for Burts…
One more question…
Why does a guy who claimed to be a "vocal opponent of the porn industry" reach out and share info with a porn blogger?