Celebration of the power and ardor that only comes with age slated for March 19
AVN's Best New Imprint winner Airerose Entertainment is pleased to announce a March 19 release date for MILF Passion, a celebration of the power and ardor that comes with age. Easily aroused and educated in anatomy, the incredible women of MILF Passion are next level amorous, and Airerose would like to show you just how.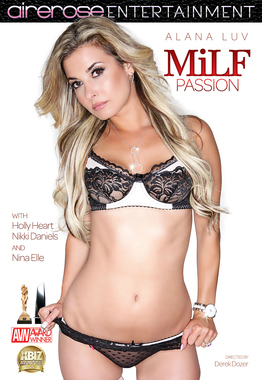 Experienced in the body language of amour, MILF Passion is a love letter to the power of the pussy as it blossoms with age and closes down on cock in four intense scenes helmed by some of the most beautiful broads in the business. Watch Nina Elle, Holly Heart, Nikki Daniels, and covergirl Alana Luv move, grind, suck, and fuck for what gets them off, proving once and for all that true horny passion comes from a trip (or two) around the block!
Adam H., VP of Airerose Entertainment, stated, "Women get better with age – it's just a fact. MILF Passion puts that reality front and center with some of the horniest performers presenting genuine abandon and skill that'll hopefully teach their lucky partners a thing or two. Street date of March 19 will come up fast, so be smart and place your pre-order today."
MILF Passion includes bonus features like hard and soft photo galleries, and trailers for Airerose's other gonzo titles.
Follow us on Twitter to stay up to date with news about Airerose and it's stars: @airerose.
View SFW trailers for Airerose's past releases and video vlogs on the Airerose Entertainment Youtube Channel.