Despite reports that Al Goldstein, the iconic publisher of Screw, had passed away, Bleeding Cool reports that the hospitalized Goldstein is still alive:
Larry "Ratso" Sloman, best known for his work with Howard Stern, contacts BC to tell us that, despite a number of reports of his death, Goldstein is very much alive and stable, though [Sloman] confirms he is in hospital, and that he met him with Penn Jillette last night…
Jillette tweeted this morning that Goldstein, though alive, "is unresponsive and not doing well."
UPDATE (Tuesday, December 17): The 77-year old Manhattan porn pioneer has been moved from his Brooklyn hospital bed.
Ratso reports: "He's been sent home from the hospital to die. We're moving hospice to his room in the nursing home. He's unresponsive and didn't want any measures taken to prolong his life."
Veteran adult film performer Richard Pacheco, aka Howie Gordon, commented on the news:
"Death better get its act together! It's never dealt with Al Goldstein before! Bon Voyage, Al!"
UPDATE: (Thursday, December 19): R.I.P. Al Goldstein — Read Al's obituary with tributes from his friends and colleagues.
Born Alvin Goldstein in New York on January 10, 1936, Goldstein rose to prominence in the world of adult entertainment after co-founding Screw Magazine in 1968.
A self-described "bed-wetting stutterer from Brooklyn" with a history of diabetes, obesity and manic depression, Goldstein lived an extraordinary life. As the New York Times' Steven Heller, who served as Screw's first art director, wrote in 2006:
Before founding Screw, Goldstein was a radio car driver for Walter Winchell, a photographer for the Fair Play for Cuba Committee (he was once jailed in Havana), a press photographer for Pakistan International Airlines (he accompanied Jackie Kennedy on her goodwill tour of Pakistan in 1962), and an industrial spy for a large corporation. He was also employed by the tabloid publisher of the "blood and guts" men's magazines Hush Hush News and The National Mirror. (He used his friends' names in stories with gory headlines like "Lover Shoves Icepick Up Lover's Nose.") As a respite from this sordid journalism, he approached The New York Free Press, an underground paper where I was art director, and sold us his guilt-ridden confessions of being an industrial spy, which I illustrated. He often railed about having to write such unremittingly gratuitous violence while sex, which his editors called "unmentionable acts," remained taboo. He deemed his employers "bottom-feeders" and decided to start a publication along the lines of Consumer Reports that would "detail sex, but never violence." He was also eager to experience his fair share of those unmentionable acts. And so, in 1968, Screw was born.
Screw predated Larry Flynt's Hustler by six years, and became the spearhead of the sexual revolution. Goldstein was arrested 21 times for his unprecedented indecency. As Josh Alan Friedman noted:
A typical bust involved the first advertisements ever published for dildos. The State of New York argued in Superior Court that dildos could be used for criminally immoral purposes. Goldstein went to jail so that your Aunt Murgatroid can now buy a vibrator at the corner drug store.
At its peak, the magazine reportedly reached a a circulation of a half-million.
Following the extraordinary success of the film Deep Throat, Goldstein and his partner, Jim Buckley, decided to try their hand at producing a porn film. The result was It Happened In Hollywood (1973), featuring a young Wes Craven as assistant director and editor.
Goldstein debuted his television series, Midnight Blue in 1974. A local-access cable interview show with a recurring rant segment called "Fuck You," Midnight Blue became an institution in the Big Apple, and a favorite guilty pleasure for decades of New Yorkers.
In 1977 — eleven years before the pivotal case of Hustler Magazine, Inc. v. Falwell — Alabama Governor George Wallace sued Screw for $5 million for publishing that the governor had learned to do sexual acts from reading the magazine. The parties eventually settled for $12,500, and Screw agreed to print an apology.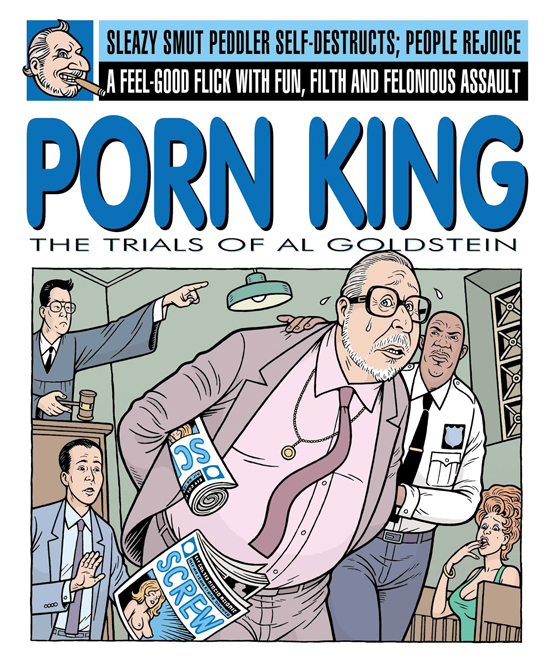 Gloldstein mulled a run as Broward County, Florida sheriff in 1992, but abandoned the race because of an impending divorce and the need to spend more time in New York running Screw. After Screw folded in 2003 ( "The Internet made pornography available for free, and I couldn't compete," said Goldstein), his fifth marriage failed and left him broke.
Goldstein's company, Milky Way Productions – owner of both Screw and his long-running cable TV show – went into bankruptcy in 2004. Goldstein, who reportedly had once been worth $11 million, was forced to sell his townhouse on New York's East 61st St. and his $2.5 million mansion in Pompano Beach, Florida (complete with a backyard, 11-foot tall 'middle finger statue'), to pay debts.
In November 2004, Goldstein was fired from his $10-an-hour job as a greeter at the 2nd Avenue Deli after the owner discovered him sleeping on the premises. The 68-year-old ended up at a homeless shelter in Manhattan's Bellevue Hospital, before taking a job blogging at Booble.com — for $1,000 a month, plus unlimited porn.
Screw was restarted by his former employees in 2005.
Goldstein, who claimed to have bedded 7,000 sexual partners, published an autobiography, I, Goldstein: My Screwed Life, in 2006. He suffered a stroke in 2010.
"I honestly think, down the road, one day, like Lenny Bruce, there'll be an Al Goldstein article capturing his life and all the battles he's waged," he said in 2010. "It won't matter because I'll be dead, but I really think it will make something positive."