Sunday, there was an event called PORNSTARS for Puppies – key word being PORNSTARS. So here is this alleged anti-porner, promoting a PORN event, where there are sure to be PORNSTARS.
So what does Super-Mom 'I must protect my kids from porn' do?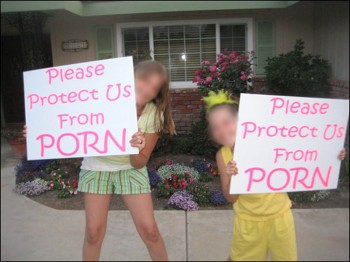 She brings them to a PORN event. Who does that? I'm a pretty open minded guy when it comes to talking to my kids about sex, but in the days of iPhones and net connections, I would never consider taking my 8 year old to a PORN event.
I can just imagine Lubben's kid, "Mom, who's Ron Jeremy?"  'No one honey, just a guy who's going to Jew hell.'  'Now, go get mommy's eight foot staff. I need to pray.'
If this was the end of it, it may be okay. But, it's not. Little Lubben grabs one of the iPhones that Pink Cross donors bought for them and googles Ron Jeremy, sees pictures of his gigantic peepee, finds out that mom had her tits signed by this Jew heathen and allegedly, paid 600 bucks to go on a date with him. Little Lubben finds this odd since married people don't date outside of their marriage unless they're swingers.
This dating thing makes Little Lubben start to question the bible. It seems the writers of this book of faith left out the swinger chapter. Little Lubben really starts to question things now. Has my mom been lying? She starts to dig deeper. Like a little Magnum PI, she finds TRPWL and a cornucopia of Lubben information. Little Lubben spends days reading, sometimes in awe of how great TRPWL is…
She reads her mom's accusations about a violent pornographer and sex trafficker named Michael Whiteacre. Little Lubben is now freaking out – because she remembers this crazy man from the PORNpuppy event. If this Whiteacre is so violent and bad, why would mom take me around him? And when he laid his kidnapper eyes on us, why didn't he try to traffic us? When mom saw him – why didn't she hide us? Why did mom just stand around and get her picture taken while this satanic violent sex trafficker stood three feet away? And why is mom even taking us to a porn event?
Soon little Lubben realizes, like the pornstars that joined Pink Cross, shes just a pawn in mommy's game of treachery and deceit. Determined to solve this riddle, Little Lubben begins to silently question everything mommy has ever told her.
Has my mom been lying this whole time? Are we living the good life because my mom steals from old people trying to get into heaven? Do Jews really have secret bags of gold around their neck? Is Monica Foster on drugs? Are porn people really that bad?
So here's Little Lubben, a sheltered child living in a world of 8 foot staffs, with a mom who she thought was God and, up until June 2nd, never questioned anything her mom said. Her little life is crumbling now. Why? Because her anti-porner mom took her to a porn event.
Hi, I'm Shawn Thompson EIC of TRPWL.  And we have had a lot of laughs today, but I'll tell you what's not funny; killing strippers. Strippers are people too, naked people who may be willing to pleasure you for a price you negotiate later behind a curtain in the VIP room. Let's give strippers hugs not hurt…