At his arraignment in Sutter County Superior Court, Wednesday, anti-porn crusader Donny Pauling pleaded not guilty to three felony charges relating to sex with a minor, including Statutory Rape.
Pauling was arraigned via video link from the Sutter County Jail. He is due back in the Yuba City, Calif. courthouse December 10 for a preliminary pre-trial conference.
Pauling, who is represented by a public defender, is also scheduled to return to court again on December 12 for a preliminary hearing in the case.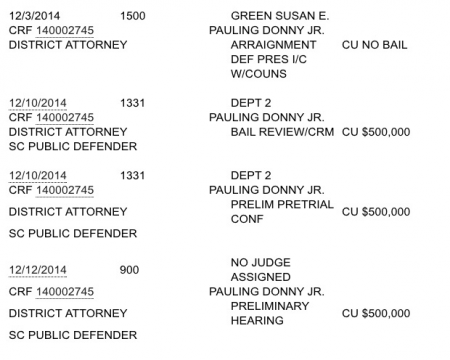 Monica Vaughn of the Appeal-Democrat reports this morning:
Judge Susan E. Green set Pauling's bail at $500,000. She also told him if he posts bail, he must surrender his passport…
When discussing an appropriate bail amount, Deputy District Attorney Anu Chopra said the alleged victim told law enforcement that Pauling has a tracking device on her cellphone, obsesses about her, threatened to harm her and himself, and has two firearms. She said Pauling threatened to kill himself if she told law enforcement, Chopra said.

Pauling, an author and motivational speaker who talks as an anti-porn activist about his former nine-year career in the pornography industry, said little during the hearing. He denied that he threatened to harm himself.

Pauling, 41, was charged with lewd and lascivious acts with a child 14 or 15 when the defendant was at least more than 10 years older than the alleged victim and unlawful sexual intercourse with a minor. The crimes are alleged to have occurred between Oct. 1, 2012, and last month. A 16-year-old girl reported Sunday that Pauling had ongoing sexual contact with her for three years.

The girl said the crimes were committed in Sutter and Shasta counties.

A misdemeanor criminal complaint was filed in October 2012 against Pauling in Shasta County Superior Court for annoying or molesting a child under 18. The alleged crime occurred on Jan. 1, 2010.

That case was dismissed in June 2013, according to an official with the Shasta County District Attorney's Office.

Pauling wrote about the case publicly around the time the charges were filed. He said a woman with whom he had gotten in a fight was responsible for the false accusations.
Pauling was arrested Monday by the Sutter County Sheriff on three sex crime charges: Lewd Act on a Child, Oral Copulation, and Unlawful Intercourse (Statutory Rape).
CBS Sacramento reports that deputies arrested him at his Yuba City home after the teenage girl, whom they indicate is a relative, came forward to police about the improper relationship, adding that Pauling had also posted photos of her online.
He had been held without bail prior to his arraignment.
Pauling has said that, when not speaking out against the adult business at paid gigs offered by fanatical groups such as Morality in Media, he does "internet marketing for car dealers".
Here's Donny Pauling with his good buddy Gail Dines:
Many thanks to Monica Vaughan, of the Appeal-Democrat