VENICE, CA – When Ashley Sinclair started camming at 18 she did not bring with a deep interest in fetishes. She was, however, very open to others' ideas and soon discovered that she really enjoyed being part of others getting off on their own fetishes.
Now that she possibly the most prolific maker of custom videos in the country, her experience and openness and stunning beauty create the gold standard for fans looking to special order their specific desires.
"Until I started doing webcam at 18 I wasn't that experienced other than vanilla sex with a few boyfriends," she recalls. "However, if it is someone I am attracted to, to be totally dominated – I have always loved the thought of that – is a turn-on. I also think group sex is fun, so I am definitely on the open side."
In doing customs she has tried just about everything, including a few things she probably would never have tried otherwise.
"There are so many things I have had the opportunity to try," she says. "Lots of humiliation, cuckold, goddess worshiping, foot fetish, and jerk-off instructions (from a girl they will and can never have) seem to be the most popular. One unique one is the pregnant fetish. I'm obviously not pregnant but I have a realistic fake belly prop that I use for those scenes.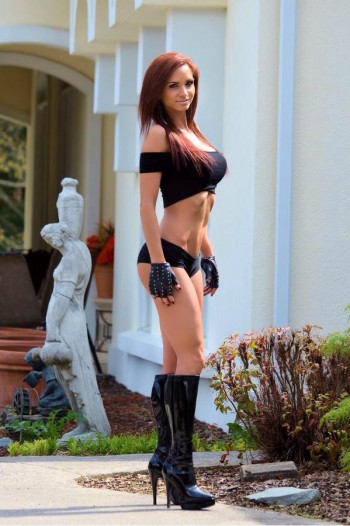 "One of the most interesting for me has been domination. I never thought I would be in a position to dominate a guy, but in videos and on live webcam I do it all the time and I love it. It's always guys who I would never really be with and I like the control and power of it. I would never be with someone who couldn't totally own me. So it's a fun role to play."
Ashley recently bought a very impressive, 8,000-square-foot house called Bella Vista and it has opening up tremendous shooting opportunities. She now has a pool, hot tub, five ponds, a full gym, six garages and 14 indoor rooms, 2 outdoor rooms and a guest house to choose from. She also has a full photography/videography studio on location in a separate building. All of this gives her the opportunity to shoot nearly anything she (or her fans) can dream up in complete privacy and without disrupting the rest of her life and in the highest quality available today.
"Now I can turn a room or a garage or anything I want into a set," she says. "I do a ton of customs – I shoot 50 to 100 videos a month – so to be able to do most things on my property is fantastically convenient. I've had the most fun with the pool and hot tub, but those are just the most obvious opportunities, and I never know what someone is going to request next."
Fans looking for the latest and greatest of Ashley's fetish work can go to http://www.ashleyandfriends.com. Contact her directly at AshleySinclair69@yahoo.com to discuss your custom fantasy video.
Ashley has been posting some amazing movies for her super-popular Soccer Mom series. Check out all the amazing episodes and much, much more at http://clubsinful.com.
Ashley was recently named Sexiest Adult Starlet at the Alt Awards and Crossover Performer of the Year at the 2015 Cammy Awards.
Ashley's new company is @MySecretPayment and the website for that is www.MySecretPayment.com.
Fans can now text Ashley – including pics and text messages – via Dream Lover. Go to http://www.dreamlover.com/ashleysinclair to connect with her. Ashley produces custom fetish content where the fan is the director. Contact ashleysinclair69@yahoo.com for information. Check out her websites, www.ashleyandfriends.com and http://clubsinful.com.
For everything Ashley go to http://risingstarpr.com/clients/ashley-sinclair/. For up-to-the-second updates, follow Ashley on Twitter (@AshleySinclair0).