If you've ever wondered what your favorite porn star does in her spare time, glance at her Twitter feed, and you might find that her life is surprisingly normal.
Yet showing off that normal life is likely a key to her overall career strategy. More and more, porn stars are taking to social media to craft a personal brand that proves they've got more on the brain than just sex, a tactic that might even help them cross over into the mainstream.
A new crop of young porn stars aren't just freeze-frames on your video screens any more — they're animated Gifs on your Tumblr feed, alarmingly witty humorists on Twitter and ferocious bloggers who are just as willing to show you the pizza they ate for dinner as they are to show you their naked booty. These are porn stars who you're more likely to find parading around Comic-Con, speaking on panel discussions at universities and DJing at nightclubs than signing autographs at a porn convention, although they've been known to do that, too.
Taking into account their influence on platforms like Twitter and Tumblr, their willingness to interact on forums like Reddit, the scope of their projects outside of porn and, of course, their overall popularity as performers, we've ranked the 10 most innovative porn stars who could very well be the next Sasha Grey.
10. April O'Neil
In the tradition of pop culture-obsessed porn stars like Andy San Dimas, who named herself after the SoCal city where Bill and Ted's Excellent Adventure takes place, and Diana Prince, named for Wonder Woman's alter ego, April O'Neil takes her name from the foxy reporter in Teenage Mutant Ninja Turtles. The 26-year-old from Phoenix is into all things geeky, from Dr. Who to Reddit to San Diego Comic-Con, during which she dressed as her namesake in 2011.
This past year, her 86,000+ Twitter followers — most of whom she actually replies to — helped her win the AVN fan award for Twitter Queen. While her famous name isn't the most SEO-friendly, she's still relatively easy to find on Twitter, Instagram, Tumblr, and even Reddit, where she's answered questions about losing her virginity, penis size (she says the "motion of the ocean" is more important than size of the boat, metaphorically speaking), bisexuality (she became a porn star "for the pussy") and tattoos (the one on her shoulder is kanji for "I'm a dumbass who got a tattoo at 15," she says.)
In O'Neil's Instagram and Tumblr photos, her messy brown hair, gigantic eyeglasses and black beanie with the word "fuck" embroidered across it are more akin to the cartoon character Daria than the TNMT heroine she's named after. Yes, the same lady who wears ironic wolf sweatshirts and Wayne's World tank tops is also the actress responsible for more than 130 porn films, including This Ain't Saved by the Bell XXX, Hollywood's Nailin' Palin and Young Panty-Ho's. Like any young porn star looking to cross over into the mainstream, O'Neil also hits the turntables every once in a while, most notably at a gig at the Roxy in August.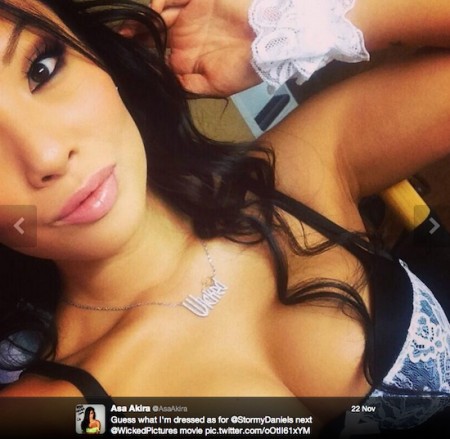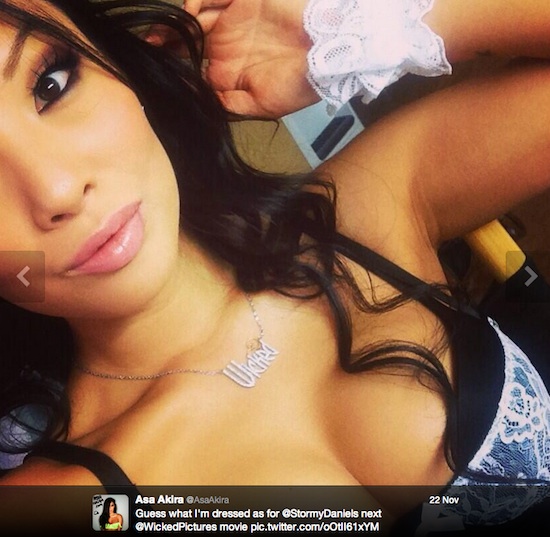 3. Asa Akira
Asa Akira has an award-winning asshole, says her Twitter bio, and the claim is actually somewhat true: She won the AVN Award for Best Anal Sex Scene two years in a row, in 2011 and 2012. In 2013, she became only the second Asian performer ever to earn the AVN Award for Female Performer of the Year. But even with all those awards under her (garter) belt, 27-year-old Akira's best asset is still her sense of humor, which often involves jokes about — you guessed it — her ass.
Her Twitter feed is a medley of sexually-explicit haikus and even meta haikus about Twitter itself: "Never should you trust / Girls who claim they do not know / Their follower count." Surely Akira knows her own follower count: more than 400,000. She delivers useful social media advice such as: "If you need to put a filter on a dick pic, you shouldn't be sending dick pics." Truer words have never been spoken.
When she's not tweeting about lathering her award-winning ass with anti-wrinkle cream, Akira's been known to answer questions in Reddit AMAs. In the one she participated in last month, she advocated for the Oxford comma, heralded Tina Fey as her non-porn hero (Lisa Ann is her porn hero) and dispensed life advice such as, '"I don't want to' is a good enough reason."
But there are still plenty of things she does want to do, like the bi-weekly podcast she co-hosts with artist David Choe, and the autobiographical book she's publishing next spring. She recently tweeted: "Reviewing the copyeditor's notes on my book while prepping my butt for tomorrow's scene." If that's not multi-tasking, then we don't know what is.
Keep Reading In Order