Adult film star Asa Akira, the 2012 XBIZ Female Performer of the Year, will debut her memoir, "Insatiable: Porn—A Love Story," this May, Grove Press announced Friday.
With "Insatiable," Akira plans to take readers inside the adult industry, honestly sharing her sexual desires, as well as her insecurities.
Billed as "candid and unconventional," the book features Akira's humor and insight on everything from her teenage years in New York City to her early days in the business and the porn industry at large, according to Grove Press.
The Japanese-American star, who in Octobe rsigned an exclusive performance contract with Wicked Pictures, talks frankly about her relationships with other adult film personalities, especially the complex relationship with her porn star husband, Toni Ribas. She also shares her thoughts about women and sexuality in today's world.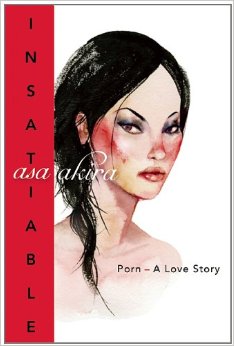 Educated at the United Nations International School, a highly selective private school in Manhattan, Akira forwent the academic route and entered the world of adult as a dominatrix and stripper.
Today, she has built a reputation for being one of the most hard-working and extreme performers in porn, winning more than two dozen industry awards for her more than 330 movies.
In January 2012, she was the first Asian-American starlet to win the coveted Female Performer of the Year award, taking the honor in the midst of her fourth year in porn.
Akira, who was born in New York and lived for six years in Japan, told XBIZ that night that she sensed a breakthrough with her sexuality. "I really became a sexual being this year," Akira said. "I got to do a lot of the dirtier stuff and I think from the time that I started up until now I think I've grown a lot. I've matured a lot and I've come to realize what I like."
A former cashier at Barnes & Noble, Akira also starred in the 2012 XBIZ Award-winning Gonzo Release of the Year, Asa Akira Is Insatiable 2.
"From 'The Story of O' to Catherine Millet's 'The Sexual Life of Catherine M,' Grove Press has a history of publishing controversial books exploring the boundaries of sex," said Grove Atlantic publisher, Morgan Entrekin. "Extreme sexuality is now more pervasive in our culture than ever before and Asa is a product of that reality. Her emotionally raw and fascinating account of her life will certainly spark conversations about our 21st century sexuality and the freedom to embrace our desires."
Last year Akira also went behind the camera for the first time, making her directorial debut for Elegant Angel with Gangbanged 6.
She has been nominated again for XBIZ Female Performer of the Year, among other honors, for the 2014 XBIZ Awards on Jan. 24 at Century Plaza Hotel in Century City, Calif.
"Insatiable" is available for pre-order on Amazon.com.