A film festival in Australia allowed the screening of a documentary about bestiality, two years after another film festival banned the screening of movie about gay sex due to offensive content.
On Sept. 8, the Sydney Underground Film Festival (SUFF) screened "Donkey Love", a documentary that purports to reveal sexual relations between Colombian men and their donkeys, a practice that allegedly prepares men for sex with women and "prevents them from becoming homosexuals."
The Classification Board, the government agency responsible for classifying films, did not ask to view the film before it screened at the festival. Instead, "Donkey Love" got an exemption from classification, according to an article by the Sydney Morning Herald's Andrew Taylor. Films in Australia cannot be screened publicly without being rated by the Classification Board, but a festival can screen films that are not rated.
One scene shows a man having sex with a donkey on the side of a road, as cameramen film and laugh, according to Taylor.
Stefan Popescu, a director of SUFF, told SMH he was surprised the board did not ask for more information on the film.
"Donkey Love" was acceptable, but the 2010 film "L.A. Zombie," which showed gay sex, was not.
"L.A. Zombie," by controversial Canadian filmmaker Bruce LaBruce, was banned from the 2010 Melbourne International Film Festival because of "content that may offend," according to SameSame.com, an Australian gay and lesbian lifestyle website. The film, starring French porn star Francois Sagat, is about a schizophrenic homeless man who thinks he is a zombie and tries to raise the dead by having sex with them.
The Film Classification Board banned the movie, but festival director Richard Moore told The Age: "Bruce LaBruce's blend of sex and violence can be confronting, but I would argue that within the context of the festival, it is nonsensical and [patronizing] to not allow people to decide what they want to see." It was the first film banned since 2003.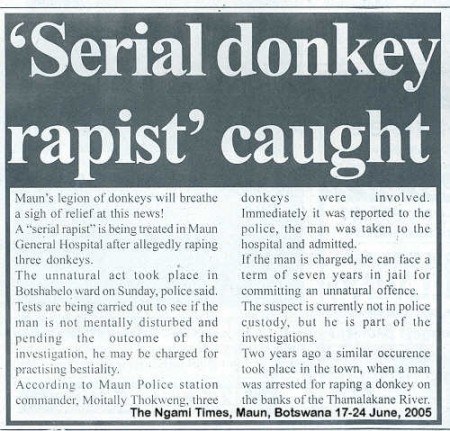 That same year, the festival screened "Suicide Girls Must Die," a heterosexual porn horror flick. Crikey.com noted the disparity, "Australia, you're standing in it (it being a quagmire of hypocrisy and puritanical censorship laced with subtle homophobia)."
LaBruce said, "Censorship in any form should not be tolerated, but to ban a film that one programmer at a major festival has called 'a masterpiece of melancholia' is truly beyond the pale," according to IndieWire.
"L.A. Zombie" was eventually illegally screened at the Melbourne Underground Film Festival (MUFF), with hundreds showing up to view the banned flick, the SMH previously reported.
But not without consequences.
Police raided the home of MUFF director Richard Wolstencroft, to search for any copies of the film, according to The Age. The police wanted to remove every DVD in his home as well as his computer, but Wolstencroft insisted he destroyed the only remaining copy. He was eventually fined $750.
Championing for gay rights in Australia is an ongoing struggle, with homophobic viewpoints continuing to take center stage. In June, the chairman of an Australian parliamentary committee reviewing gay law reform said he believes lawmakers will keep the ban on same-sex marriage when the vote comes later this year.