Four-time AVN Director of the Year Axel Braun announced today that he has wrapped production on Sleeping Beauty XXX: An Axel Braun Parody, the second entry in his highly successful Wicked Fairy Tales line.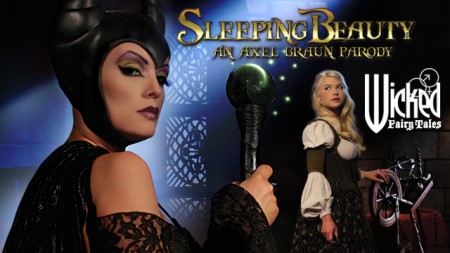 "It really looks awesome," said Braun. "My team and I worked even harder than usual to build the complex sets and put together the elaborate period costumes for this movie, and I was very lucky to have an absolutely exceptional cast, along with the support of a great company."
The casting call for Braun's sexy take on the Charles Perrault fairy tale drew more than 60 actors in one day, plus a dozen more who submitted video auditions, resulting in Anikka Albrite winning the lead role of Aurora, while Adult superstar Stormy Daniels landed the coveted part of Maleficent, played by Angelina Jolie in the upcoming mainstream version.
"Sleeping Beauty has always been my favorite fairy tale, so when Axel offered me the role of Maleficent I was beyond thrilled," said Daniels. "Knowing Axel's obsessive attention to detail, I was  eager to work with him, and once I saw the incredible custom headpiece he had commissioned for the movie, I got even more excited. I've been fortunate to be a part of many amazing projects during my career at Wicked Pictures, and being able to play Maleficent is definitely the icing on the cake. It's not every day I get to breathe fire, after all!"
"Stormy really hit it out of the park with this performance" said Braun. "Even though I've known her for years, I had never directed her before, and I have to say the level of commitment, focus,   and raw sexual energy she brought to the table were truly impressive. Whoever said the era of porn superstars is over, clearly doesn't know Stormy."
The stellar female cast includes Claire Robbins as Fauna,  Casey Calvert as Merryweather, porn legend Shayla LaVeaux as Queen Leah, and ABP contract superstar Riley Steele as Flora.
"I got to play a fairy and dye my hair pink!" said Steele with a big smile."I'm so happy that Axel keeps giving me these awesome roles, and I know my fans love it! Casey, Claire and I got to blow King Hubert and it was a really hot scene, and I was able to be on set with Stormy, she's so nice and such an industry legend…I'm just flabbergasted to be a part of this movie!"
Sleeping Beauty XXX: An Axel Braun Parody will hit stores on DVD in June.
For Domestic Sales please contact Bonnie Kail at 800-737-7838 or bonnie@wickedpictures.com, and for International Sales please contact Steven Vlottes at 818-349-3593 or mrvlottes@wickedpictures.com.