I do not like Axel, he's a conman living off a family name. He wants to live like Lanksy but instead of getting a budget from a tubesite, he just fucks the girls over.. The later has been documented on this site on more than one occasion. And if his bad business practices weren't enough, he once tried to fight Kevin Moore in a total bitch move.
So I was sent a picture of a 51 year old Axel looking like he just hopped out of a Puff Daddy video:

That was a picture of Axel at the Urban X awards. He's a huge supporter of the African American community. Don't believe me, check out his movie list from the last 12 months..
Axel Braun's Big Ass Anal Movie – 10 actors, 0 black
Justice League XXX: An Axel Braun Parody – – 10 actors, 0 black
Axel Braun's Shades Of Red – 10 actors, 0 black
Axel Braun's Specs Appeal 2 – 10 actors, 1 black female
Axel Braun's Bush – 10 actors, 0 black
Axel Braun's Short Hair Don't Care – 10 actors, 2 black females
Axel Braun's Dirty Talk 2 – 10 actors, 0 black
Axel Braun's Asian Connection 2 – 10 actors, 0 black.
Axel Braun's Inked 4 – 10 actors, 0 black
Axel Braun's Brown Sugar 2 – 10 actors, 5 black female, 0 black male
Axel Braun's Bush 2 – 10 actors, 0 black
Axel Braun's Milf Fest 3 – 10 actors, 0 black
120 people booked for 12 movies, 8 of them were black...
If you take away the movie Brown Sugar, Axel hired 3 black people out of 110…Think about that, thats like 2.1%.  Certainly thats go to be some sort of equal opportunity employment violation..
Here's Axel taking that "I'm friends with a black guy" pic so he can show all his buddies at Bushwood Country Club.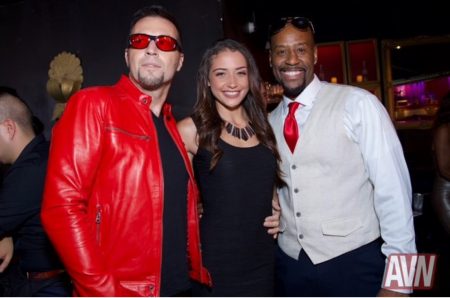 This gets better, the Urban X Awards, described by it's PR guy James Bartholet as a "popular and legitimate" event gave Axel an award for the one movie he shot that employed 5 black actresses.. And I'm pretty sure it had nothing to do with Wicked being an Urban X sponsor..Nope not at all.
Imagine if Mike Quasar sponsored the Urban X awards next year, id say 30-35 percent of all talent he hires are African American, he would win every award including Best Milf.  Lex wouldn't even bother showing up in 2019, Trump would honor Quasar with a parade in downtown San Fran, Historically Black Colleges would offer the Quasar Scholarship, Feminists would wear Quasar shirts to all their rally's, Antifa would spare Quasars new rig next time they protest, Tiger Woods would declare, "I'm Mike Quasar".
But this wont every happen, Mike wouldn't waste his money on Urban X so we will be continually stuck with awards going to the highest bidder
Wonder if Axel will ever try and fight ME?