Sexy Superstar Ready to Sexy to Help Put Spotlight on ALS
VENICE, CA – In the spirit of ALS awareness, Female Performer of the Year Bonnie Rotten is ready to take the ALS Ice Bucket Challenge—naked!
ALS, or Amyotrophic lateral sclerosis, is also known as Lou Gehrig's disease. It is a progressive neurodegenerative disease causes the degeneration of a person's motor neurons, affecting voluntary muscle action and eventually leading to death. There is currently no cure and only one approved medicine used in treatment.
Celebrities throughout the U.S. are taking the Ice Bucket Challenge—literally taking a bucket of ice water over their head. They then challenge others to do the same or to make a donation to fight ALS. Always happy to help the medical community, over the weekend Bonnie challenged her twitter followers to tweet her proof of their donations and once 50 fans have made donations she will take a bucket of ice water over her head—while naked—for all to see.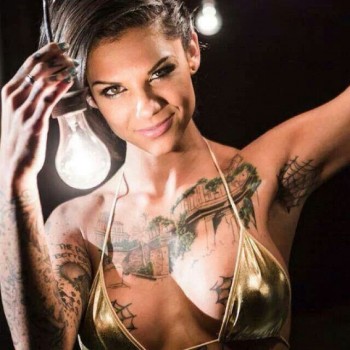 "I think it's really important to help find a cure for ALS and I think this is the best way for me to help out," Bonnie said. "I hate water and I hate being cold, but it's a small price to pay. The reaction has been fantastic and I'm really proud of how my fans have stepped up for this important cause."
By noon Sunday she was already halfway to her goal of 50. After reaching 50 she will videotape her ice bucket moment and post the video for everyone to see. Fans should make their donations at www.alsa.org/donate/. Tweet a screenshot of your donation to @thebonnierotten and then stay tuned to her twitter feed for what looks like an inevitable and sexy Ice Bucket Challenge.
To learn more about ALS and the Ice Bucket Challenge, go to www.alsa.org/news/archive/als-ice-bucket-challenge.html.
Bonnie has two big new releases B Is for Bonnie (Jonni Darkko/Evil Angel) and Alien Ass Party 2 (Joey Silvera/Evil Angel).
B Is for Bonnie is being billed as "Darkko's tribute Bonnie," a four-scene showcase that "shows the boldly-tattooed Rotten soaking every scene of her movie with genuine sexual joy, flowing spit and volcanic, torrential girl squirt."
The movie has already been reviewed by XCritic, with Don Houston issuing a Highly Recommended review.
"This was a no holes barred experience and Bonnie let loose with the juice in such a way to prove her dominance in the current phase of the squirting genre, the gal focusing on the pleasure of porn in all its nasty ways with little regard for her smeared makeup or other niceties you may find in glam porn," Houston writes.
He continues, saying the movie merits "a healthy rating of Highly Recommended for the gonzo loving raincoat crowd, Bonnie Rotten proving time and again that a woman can enjoy extreme sex acts no matter how nasty they seem and literally own them as a result. She took cock in her mouth, pussy, and ass like a seasoned champion too, applying a lot of fun factor entertainment as she clearly relished the action taking place, never letting up in her need for seed from the second and third stringer males here. B For Bonnie had a lot for those who want to see extreme queen anal gal Bonnie Rotten pushed to her limits, Jonni's technical expertise making her shine in a way that just doesn't happen very often even now that she has 'made it' to the top of the hill as a performer. The title almost assuredly to be included among spotlight award nominees in coming months."
Read the full review at www.xcritic.com/review/41204/bonnie-rotten-b-for-bonnie/. For more information and to check out the trailer go to www.evilangelvideo.com/video/1000010272/B-For-Bonnie/.
Check out the Pipedream Bonnie Rotten Signature Collection at www.pipedreamproducts.com/showbrand-22d.php?Brand=Bonnie%20Rotten%20Collection.
Bonnie's 2014 NightMoves Awards nominations:
Best Female Performer
Best Adult Film Star Feature Dancer
Best Ink
Best Parody (Drama): Rambone XXX (DreamZone Entertainment)
Best All Sex Release: Performers of the Year 2014 (Elegant Angel); Tattooed Goddesses (Jules Jordan Video); The Best In XXX (Wicked Pictures)
Best All Girl Release: Destruction of Bonnie Rotten (Devil's Films); Women Seeking Women #100 (Girlfriends Films)
Best Fetish/Specialty Release: Bonnie Rotten Is Squirtwoman (Elegant Angel); To the Core (Mental Beauty)
Vote for her at http://nightmovesonline.com/voting/index.php?sid=82189&lang=en.
Follow Bonnie on Twitter @thebonnierotten. Her official website is www.bonnierotten.com. For everything Bonnie go to http://risingstarpr.com/news/?page_id=4171.