Annual Toys for Tots Twitter Drive Tops 300
VENICE, CA – Brandi Love has scored another box cover, this one coming from Naughty America as they release Tonight's Girlfriend 34.
Brandi shares the scene with Johnny Castle, who has a fantasy of her being his real life girlfriend. After some small talk, she gets changed to go out for the evening as any couple would. As they get back to the room they are barely able to control themselves and begin peeling one another's clothes off before they're even inside the door. Passionate kissing quickly turns into a kinky game with food and a blindfold.
"Johnny and I have always had great scenes and this one is nothing shy of explosive," Brandi said. "I'm honored to grace the cover of what proved to be an incredibly erotic volume of a great series."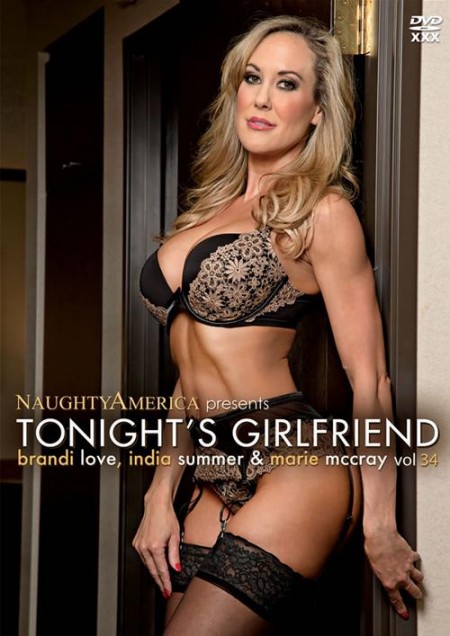 Brandi's annual Toys for Tots drive via her Twitter account was a huge success. Last year she collected just over 150 toys and this year she was able to double that – more than 300 arrived this year.
"I believe in the Marine Toys for Tots foundation and have been donating toys for years," she said. "Knowing my followers and their incredible hearts, I decided to reach out to them to see if I could get group participation. I figured if I could help a little, my followers could make a huge difference. They proved me correct. Within days of announcing the campaigns start and getting the toys Amazon wishlist all set up, toys started showing up. The generosity of strangers and eagerness to help children in need has been so inspirational. Being able to utilize social media in this manner has been very satisfying. I am already thinking on ways to make next year even bigger."
New videos have been added to www.BrandiLove.com, her AVN Award-nominated website (it's up for Best Porn Star Website at next month's show) and fans can look forward to never-before-seen scenes, photo sets and one or two cam shows every week. The live shows are also archived for those unable to catch them as they happen.
"I have decided that 2015 is all about the members," Brandi said. "They can email me their special requests and I will do what I can to fulfill them," she said. "There are so many fantasies to explore and just the right amount of time!"
Brandi has several nominations in the upcoming 2015 XBIZ Awards and AVN Awards. For XBIZ she is nommed for MILF Performer of the Year and Best Supporting Actress for Aftermath (Wicked Pictures). Aftermath is also up for Feature Movie of the Year another movie she starred in, This Ain't Game of Thrones XXX (Hustler Video), is up for Parody Release of the Year – Drama.
For AVN she is up for MILF Performer of the Year and Best Porn Star Website for her www.BrandiLove.com. She also starred in Best Drama nominee Aftermath (Wicked Pictures). Brandi also has a Hottest MILF nomination in the AVN Awards fan voting category.
Fan voting!
Vote Brandi for Hottest MILF in the 2015 AVN Awards. Fans can vote once a day per IP address at http://avnawards.avn.com/voting/.
Vote Brandi for MILF Performer of the Year in the 2015 XBIZ Awards. Fans can vote at http://xbizawards.xbiz.com/voting/V24.php.
Brandi's official website is www.BrandiLove.com, and her mainstream information is at http://brandilove.tv. For feature dancing she is with A-List Features at www.alistfeatures.com. Follow her on Twitter @brandi_love. For everything Brandi go to www.risingstarpr.com.